JUBA, Sudan, April 25, 2011 (AFP) - A top militia chief has surrendered in south Sudan after clashes that killed more than 160 people, the army said on Monday, as the soon to be independent nation reels from a string of bloody battles.
The deaths over the past week have come in fighting between the south's army and two separate militia groups, pushing the number of those killed to almost 1,000 dead since January and prompting president Salva Kiir to renew his call for reconciliation.
"Gabriel Tang and around 1,300 of his men surrendered peacefully on Sunday," said Malaak Ayuen, spokesman for the south's Sudan People's Liberation Army (SPLA).
"They have been received in a friendly way and are being treated with respect."
On Saturday, 57 gunmen led by Tang in northern Jonglei state were killed in a shoot-out with SPLA troops, before fleeing into the surrounding bush, Ayuen said.
Seven SPLA soldiers also died in the battle, he added, while more than 70 wounded soldiers and civilians were reported to be receiving treatment in hospital.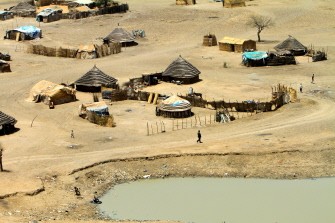 AFP - A view on April 17, 2011 showing the restive town of Abyei, on the Sudanese north-south border.
Tang commanded a pro-Khartoum militia during Sudan's devastating 1983-2005 civil war between the north and south, in which about two million people died, but he agreed to join the southern army late last year.
Saturday's fighting broke out after arguments over the militia's formal integration, with troops reluctant to relocate to the southern capital Juba, Ayuen said.
"Tensions were very high, but no one intended to fight," said Ayuen, who said the forces who surrendered would still join the army.
"It has been regretted by all, because the forces were actually joining the SPLA."
Last week, four days of clashes between the army and rebels led by former southern general Peter Gadet in key oil-producing Unity state left "at least a hundred dead," according to the SPLA spokesman.
"There were three significant clashes with heavy fighting but the rebels have now retreated," Ayuen said.
However, rebels have said they are preparing fresh attacks in the region, close to the still disputed north-south border.
The violence also forced the evacuation of 130 northern oil industry workers back to the north.
Local officials have said almost 4,000 civilians fled the fighting in Unity state, adding to the 94,000 already forced from their homes since January because of violence across the south, according to UN estimates.
At least seven militia groups, including Tang's, have been battling the southern government since January, when southerners voted overwhelmingly to split with the north in a largely peaceful referendum.
Southern president Kiir, in an Easter message read by a representative in church on Sunday, repeated his willingness for reconciliation if the rebels surrendered.
"My fellow brothers and sisters who may have taken up arms for one reason or another, our hearts remain widely open to those willing to lay down their arms and reconcile," his message read.
Meanwhile, details of the proposed interim constitution for the fledgling nation have emerged, which proposes that Kiir, who was elected in April 2010, remain president for four years following independence on July 9.
The draft, presented to the president but which must still be passed by parliament, is likely to enrage rebels, who already accuse the government of excluding them, of suppressing opposition and of rampant corruption.
Critics say the rebels are jostling for power ahead of independence, rebelling in order to extract cash or power from the government.
The proposed constitution lays out steps to involve all groups in writing a permanent constitution, including a review commission and a conference grouping political parties, traditional leaders, academics and civil society groups.
It also lays claim to the disputed Abyei region, the site of repeated clashes since the shelving of a referendum planned for January on whether the oil-producing area should join the north or the south.