NASA's space shuttle Endeavour finally lifted off from the Kennedy Space Center on Wednesday, its sixth bid in recent weeks to launch toward the orbiting International Space Station.
"We have main engine start. Four, three, two, one, booster ignition and liftoff," an announcer from the space agency's mission control said.
The shuttle basted off at 6:03 pm (2203 GMT), in what was the sixth attempt on the heels of a stream of weather woes and technical troubles.
Soaring into the Florida sky, the shuttle accelerated into space faster than the speed of sound, reaching 26,000 kilometers (16,150 miles) per hour in less than nine minutes.
In the minutes before liftoff when it became clear that weather would not cause another costly delay, NASA's relief was evident.
"Persistence pays off, good luck and God speed," said launch director Pete Nickolenko.
Endeavour's launch has been scrubbed three times since Saturday due to bad weather.
Two earlier attempts in June were aborted after potentially hazardous fuel leaks were discovered, apparently caused by a misaligned plate linking a hydrogen gas vent line with the external fuel tank.
The previous attempts left the cash-strapped US space agency footing 4.5 million dollars in extra costs, and left officials with their fingers crossed ahead of Wednesday's launch.
Around five minutes into the shuttle's voyage it reached the point at which it could not return to the Kennedy Space Center, with all engines working well.
Eight minutes after launch it entered orbit 225 kilometers (140 miles) above the earth's surface and a few moments later the shuttle could be seen successfully separating from the external fuel tank.
NASA said it hoped the launch would help fulfill "Japan's hope for an out-of-this-world space laboratory," as the shuttle delivers state-of-the-art equipment to conduct experiments in the vacuum of space.
The shuttle and its seven-member crew is expected to reach the International Space Station on Friday, where they are to complete the assembly of the Japanese Kibo laboratory.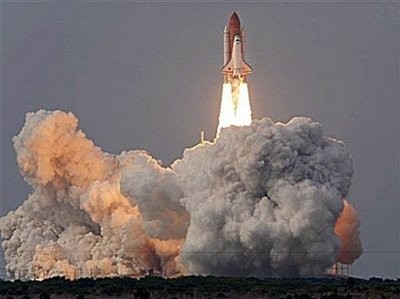 The space shuttle Endeavour lifts off from Kennedy Space Center in Florida
The six Americans and one Canadian onboard Endeavour is scheduled to install a platform on the ISS for astronauts to conduct the experiments 350 kilometers (220 miles) above Earth's surface.
The ISS should be completed in 2010, also the target date for the retirement of the US fleet of three space shuttles.
The crew includes Canadian Julie Payette, an electrical and information engineer who has been in space before and is the only woman on board.
She was the final astronaut to board Endeavour Wednesday, blowing a kiss to NASA TV cameras before stepping through the cockpit hatch.
American aerospace engineer Tim Kopra, 46, will replace Japanese astronaut Koichi Wakata, spending several months aboard the orbiting station.
He would be the latest addition to the permanent crew of the ISS, which is a joint collaboration between 16 different countries.