US space officials planned emergency repairs Monday after a failure of the cooling system on the International Space Station that has forced astronauts to reroute power.
One of two cooling loops shut down Saturday night, triggering alarms throughout the orbiting station, which is manned by three Russian and three American astronauts.
NASA said the crew is not in any danger. But an attempt overnight to close the circuit breaker and restart the pump module that feeds the vital ammonia to the cooling system failed.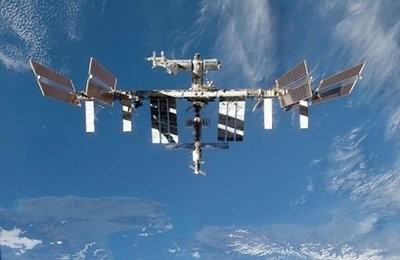 NASA image shows the International Space Station in 2009.
Astronauts closed down two of the gyroscopes that position the station as they rerouted power from the Destiny Laboratory research module to keep the temperature system stable. One gyroscope was later put back on line.
"The station is in a stable configuration with most systems receiving cooling and many systems operating with redundancy following the installation of jumper cables from the Destiny Lab's power system overnight," NASA said.
"The crew is not in any danger and is monitoring systems and relaxing on an otherwise off duty day," it added.
"Temperatures on the main bus switching units, which route power to various systems, are a little higher than normal, but well within normal parameters and are stable."
Despite the reassurances, NASA approved a preliminary plan for two US astronauts, Doug Wheelock and Tracy Caldwell Dyson, to conduct a spacewalk to fetch a replacement pump module.
"Although a final decision on a new spacewalk plan is still pending engineering and timeline analysis, the most likely scenario would call for an initial spacewalk no earlier than Thursday by Wheelock and Caldwell Dyson to replace the pump module and structurally bolt it into place on the S1 truss, with an additional spacewalk by the duo two or three days later to mate fluid and electrical connections," a statement said.
A briefing to discuss the latest developments and spacewalk replanning was scheduled for 2000 GMT Monday.
According to NASA figures, without thermal controls the ISS's sun-facing side would roast at 250 degrees Fahrenheit (121 Celsius), while the outpost's dark side would plunge to some minus 250 degrees Fahrenheit (-157 Celsius).
A statement posted some years ago on NASA's website suggested: "There might be a comfortable spot somewhere in the middle of the Station, but searching for it wouldn't be much fun!"
Before the module can be replaced, any residual ammonia must first be pumped out of the system, according to NASA.
Wheelock and Caldwell Dyson had already been scheduled for a spacewalk on Thursday to do routine maintenance work.
The ISS, which orbits 350 kilometers (220 miles) above Earth, is a sophisticated platform for scientific experiments, helping test the effects of long-term space travel on humans, a must for any trip to distant Mars.
Experts said that the incident could restart a months-long debate about NASA's future.
The agency plans to retire its space shuttle fleet after two or three more missions - a move that has worried some lawmakers because NASA does not have an immediate replacement spacecraft.
Once the program ends, the United States will rely on Russia's Soyuz rockets to carry its astronauts to the space station until a commercial US launcher can be developed. That is scheduled for 2015.
The delay has led some lawmakers, such as Representative Bill Posey of Florida, where the Kenndy Space Center is located, to call for the continuation of shuttle flights to ensure that the station can be stocked with crew and supplies until 2020.