The Atlantis shuttle crew was poised to release the Hubble space telescope back into the void, after five days of grueling repairs aimed at extending "humanity's quest for knowledge."
The refurbished 19-year-old observatory, which the crew of the Atlantis hauled into the ship's payload bay last week, is scheduled be released into space with the shuttle's robotic arm at 1253 GMT Tuesday.
Spacewalking astronauts finished their work on Hubble on Monday with a sentimental final outing that lasted about seven hours and left nothing on their mission's wishlist unfulfilled.
The shuttle crew equipped Hubble with upgrades that will extend its life by at least five years.
There are no plans for further human interaction with the iconic observatory.
NASA's shuttles, facing retirement by the end of next year, launched the space telescope in 1990.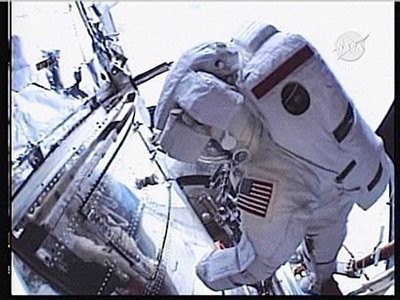 Image obtained from NASA video shows astronaut John Grunsfeld working to equip the Hubble Space Telescope with three more batteries
Shuttle crews returned in 1993, 1997, 1999 and 2002 to upgrade the telescope with new science instruments and replace failed parts.
"Hubble has returned to flagship status. It now has a full arsenal of instruments and tools for astronomers to make new discoveries," said Jon Morse, NASA's chief astrophysicist.
"Our work is just beginning. We have thousands of astronomers around the world waiting to get their data. They are chomping at the bit."
The refurbished telescope will undergo three to four months of re-commissioning, a period during which each of the four cameras and spectrographs either installed or repaired by the Atlantis astronauts will be checked and re-calibrated before scientists resume their observations.
"This is a really tremendous adventure we've been on, a very challenging mission," said John Grunsfeld, the astronomer-turned-astronaut who led three of the shuttle mission's five spacewalks.
"Hubble is not just a satellite, it's about humanity's quest for knowledge," he added.
To ensure they did all they could for the iconic telescope, Grunsfeld and Andrew Feustel started Monday's spacewalk an hour early.
The early start gave them time to march through the mission's whole agenda.
The lowest priorities included a task that was postponed on Sunday, when fellow spacewalkers Mike Massimino and Mike Good ran into a string of obstacles as they worked to revive Hubble's Space Telescope Imaging Spectrograph.
Grunsfeld and Feustel began the final outing by replacing three batteries. Next, they replaced a fine guidance sensor, an optical device that works with the gyroscopes to provide the observatory with precision pointing.
As their final task, Grunsfeld and Feustel attached panels of stainless steel shielding to the outside of the telescope, covering blemishes to the New Outer Blanket Layer (NOBL) created by the bombardment of solar radiation.
Massimino and Good fell behind on that work when they encountered a stripped bolt and other obstacles with a higher priority task on Sunday, the repairs to the Space Telescope Imaging Spectrograph.
The spectrograph, which had been inactive for five years, was responding to a round of tests to verify the repair, NASA said.
"Hard to sleep last night after my spacewalk, images of the work and the views still vivid in my mind," Massimino, the first astronaut to "tweet" from space, wrote on micro-blogging website Twitter.
No task seemed of low priority to Grunsfeld. As he mounted a new stainless steel shielding, the deteriorating material underneath began to flake and float away.
"I feel so bad about the debris," said Grunsfeld in a low tone.
Tony Ceccacci, NASA's lead flight director for the mission, characterized Monday's spacewalk as being as bitter as it was sweet for those who have worked in the shuttle program to support Hubble.
"It was like a sad day and a very happy day," he said at a news briefing. "It's like you go, this is really over. You really don't know what else to say, but congratulate each other on a super effort."
The Atlantis astronauts plan to return to Earth on Friday, landing at NASA's Kennedy Space Center in Florida.
After they pull away from Hubble, the astronauts will lower the shuttle's altitude, then examine the space craft's heat shield for signs of damage from impacts with space debris and tiny meteoroids.
Hubble's 11-day mission carries a higher risk than NASA's usual mission to the international space station because of an accumulation of man-made space debris at the telescope's higher altitude.