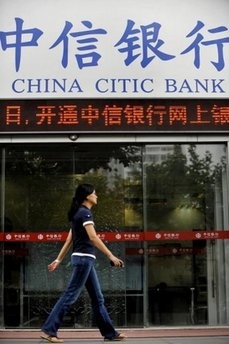 A branch of China Citic Bank in Shanghai (AFP photo)
HONG KONG (AFP) – Spanish bank BBVA may boost its current stake in China Citic Bank with a 1.6 billion dollar investment, a report said Monday citing sources close to the matter.
Spain's second-biggest bank, BBVA will up its ownership in China Citic to 15 percent from 10 percent in a move that comes as other European banks scaled back their exposure in China amid the global economic crisis, the Financial Times said.
BBVA can acquire Citic shares at their Hong Kong initial public offering price plus 10 percent, or 6.45 Hong Kong dollars (0.8 US), the report said. Citic shares were up 3.6 percent at 6.70 Hong Kong dollars in midday trading.
But the European lender has not made a final decision on whether to exercise that share-purchase option, which expires next week, the FT said.
"We remain committed to deepening our relationship with Citic and regard it as a vital strategic partnership which is delivering value to our shareholders," Manuel Galatas, BBVA managing director in Asia, told the paper.
BBVA was the first Spanish bank to break into the Asian market with an initial 2006 investment in China Citic, the country's seventh-largest lender by assets, the paper said.
The Spanish bank has invested a total of 3.5 billion dollars in the company, it said.
Foreign companies can hold a maximum 20 percent stake in Chinese firms.