Spanish newspapers told Thursday how a jet turned into an "inferno" as it took off from Madrid airport killing 153 holidaymakers, while many highlighted the problems at the budget airline which owned the plane.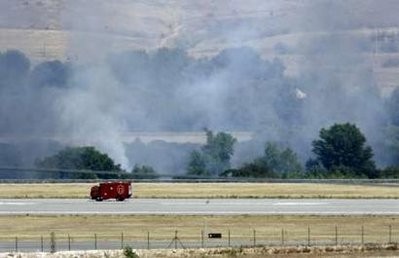 Smoke rises from the scene of the crash where a plane skidded off the runway and crashed at Madrid's Barajas airport on August 20, 2008. (AFP Photo)
"Inferno at Barajas," was the headline used by the Publico, El Periodico and La Vanguardia newspapers.
El Mundo highlighted the troubles at Spanair, the budget airline which owned the MD-82 jet which crashed at Madrid's Barajas airport on Wednesday afternoon after a failed takeoff.
"The crisis at Spanair led to a tragedy with 153 dead," said El Mundo's front page.
In an editorial headlined "Fateful coincidence or criminal negligence?" El Mundo said "the technical inspection by Spanair could have committed a fatal error." The ground staff had given the go ahead for takeoff after the pilot had returned to the terminal once because of a technical problem.
"The (Spanair) pilots had denounced the long days they had to put in stretching their limits to the full, the punishing hours and the fact that the cabin crew were acutely shortstaffed ... during intense traffic in August," it said.
Spanish media said the pilot had earlier signaled a malfunction in an exterior temperature gauge, which was fixed before takeoff.
The 15-year-old plane was bought from Korean Air nine years ago and was overhauled early this year, Spanair said.