A wave of bombings and shootings in central Iraq killed at least 25 people and wounded dozens more during a major Shiite religious commemoration on Wednesday, security and medical officials said.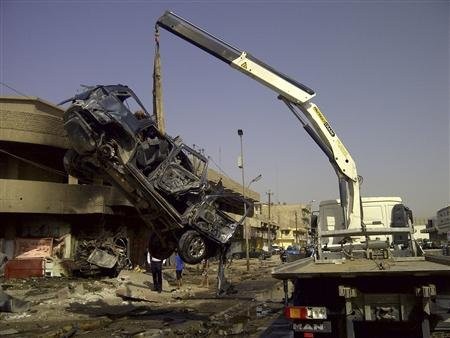 A burnt vehicle is removed from the site of a bomb attack, which killed Shi'ite pilgrims who were making their way to a religious festival, in Baghdad June 13, 2012.
At least 12 people died in a spate of nine bombings and two shootings in the Baghdad area, which also left dozens of people wounded, the officials said.
A medical official said that the Ibn al-Nafis and Al-Zayed hospitals in Baghdad had received a total of 10 dead, including three police, and 38 wounded, while a medical source in Al-Kindi hospital said it had received two dead and eight wounded.
An interior ministry official meanwhile put the toll from attacks in and around the Iraqi capital at 21 killed and 60 wounded.
In Hilla, a car bomb exploded near a restaurant killing six people and wounding 20, according to a police captain and doctor Ali al-Khafaji in the city's hospital.
A second blast, minutes later, killed seven people and wounded 25, they said.
The attacks come during commemorations for the death of revered Shiite Imam Musa Kadhim.
Violence in Iraq has declined dramatically since its peak in 2006-2007, but attacks remain common, especially in Baghdad. A total of 132 Iraqis were killed in violence in May, official figures show.