Hours after officials said they had a clear picture of at least one potential suspect in the Boston Marathon bombing, no arrests have been made and investigators continue to work to identify the individual with the help of a special FBI team of digital sleuths and cell phone records of calls made in the area in the hours before the blasts.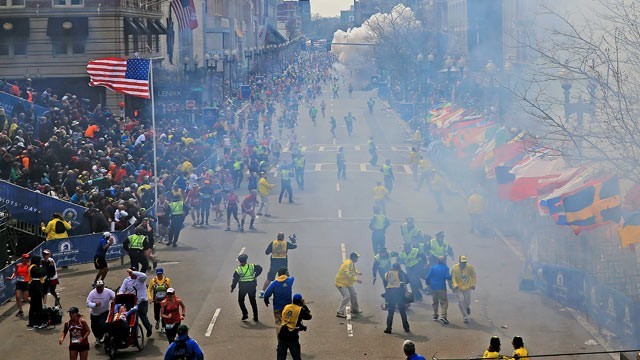 People react as an explosion goes off near the finish line of the 2013 Boston Marathon in Boston on April 15, 2013.
Working from a restricted area near the Boston harbor, the FBI's Operational Technology Division is helping sort through the hundreds of videos and pictures from the area surrounding the twin bomb blasts that erupted near the marathon finish line Monday afternoon. Three people were killed and more than 170 injured in what top U.S. officials called a "terrorist attack," though no group, foreign or domestic, has claimed responsibility.
Officials told ABC News Wednesday they found a potential suspect using surveillance footage from a Lord & Taylor along the parade route and with the help of a local television station.
Richard Clarke, a former White House counter-terrorism advisor and now ABC News consultant, said the special FBI team is likely using facial recognition software to try and match any suspicious individuals to information the government may have on file.
"There is software that allows for facial recognition even at a distance," Clarke said. "It's not 100 percent, but even a 70 or 80 percent correlation would narrow down the number of people that the FBI has to go after."
Phil Mudd, former intelligence advisor for the FBI, told ABC News that in America's new normal where nearly everything is somehow documented, civilian cameras and tips hardly hinder the investigation.
"Here it's not the problem this causes law enforcement, it's the opportunity," Mudd said. "When we narrow in on somebody... we now can put it out there [and] there will be millions of people who become investigators."
Authorities have not yet released the image of the potential suspect from the surveillance video.
Investigators are also processing some 290 pieces of evidence recovered from the crime scene, including wire with the manufacturer's name still visible, tiny circuit boards, small nails apparently meant as shrapnel and the twisted remains of a common household pressure cooker that housed the bomb.
Clarke said investigators will also be looking at cell phone records from around the time of the blast -- first to see if any suspicious called were made in the minutes before or after, and second to find out if any calls were made at the exact moment of the explosions, a possibly significant clue should authorities discover the bomb was remotely detonated.