SYDNEY, Feb 10, 2009 (AFP) - A special taskforce of 100 officers has been formed to investigate Australia's deadly wildfires and track down the arsonists believed responsible for starting some of them, police said Tuesday.
Victoria state police commissioner Christine Nixon said police were confident they would catch the arsonists, described by Prime Minister Kevin Rudd as "mass murderers."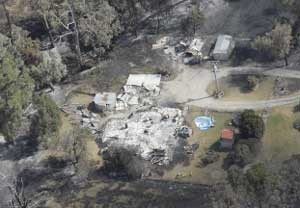 A destroyed farm house after a wildfire ripped through the West Gippsland region around Bunyip, some 100km east of Melbourne on Feb. 9 (Photo: AFP)
At least 173 people died in the fires at the weekend and the death toll is expected to rise further as emergency crews comb through the disaster area and its blackened homes.
Police are convinced that at least one of the major fires, in Gippsland east of the state capital Melbourne, was deliberately lit. The latest figures show that around 20 people died in that inferno.
Police are reported to have been handed a video tape to help in their investigation of the fire, but Deputy Police Commissioner Kieran Walshe would not confirm this.
"We have got some very dedicated investigators working in a strong team to get all the evidence available to enable us to be in position to hopefully identify the perpetrator," Walshe told ABC television.
"We are feeling confident ... that we are making progress."
The new Task Force Phoenix will investigate all fire-related deaths and police have warned that arsonists could be charged with murder.
"We will pursue these people and anyone who has any information, or thinks there may have been something strange about particular fires, please contact us," Nixon said.
The firefighters themselves did not believe the fires could have started naturally, she said.
"These people have lit these fires on the worst day that Victoria could have had," she said, referring to Saturday's record temperatures of more than 46 C (115 F).