Luxor is set to become one of the world's largest open-air museums when a multimillion dollar project to restore the "Sphinx Alley" is complete in March, the governor of Luxor, Samir Farag, said Sunday.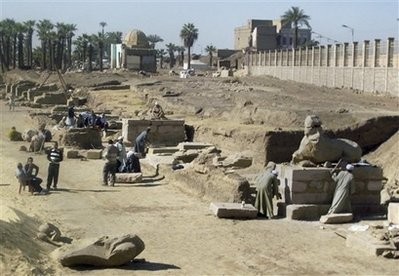 Egyptian workers in Luxor, Egypt, restore the Alley of Sphinxes, Sunday, Jan. 24, 2010,
The project to restore the two-mile (three-kilometer) alley that links the grand temples of Luxor and Karnak on the east bank of the River Nile in Luxor has cost $45 million.
Sphinx Alley was originally built with 1,200 statues, with one side lined up with ram-headed sphinxes and the other with regular sphinxes with human heads.
The alley was built by Amenhotep III in the 12th century B.C.
Over the years, the alley was buried under sand.