A French climber known as "Spiderman" was arrested on the roof of a 57-storey Sydney skyscraper on Monday after scaling the building without ropes or a harness to raise climate change awareness.
Alain Robert scaled the 150-metre (492-foot), twin-tower Lumiere apartment building in central Sydney in about 25 minutes, as dozens of curious onlookers packed the pavement to cheer, clap and take photographs.
"I think people were impressed with him, he is the world's best climber," publicist Max Markson told AFP. "His motivation for doing it is... to raise awareness of global warming and the environment."
The Frenchman unfurled a banner advertising the www.onehundredmonths.org website which claims mankind has only limited time before greenhouse gas concentrations in the atmosphere reach irreversibly dangerous levels.
"Don't jump!" a group of schoolboys shouted as Robert neared the top, capturing video of the stuntman on a mobile phone.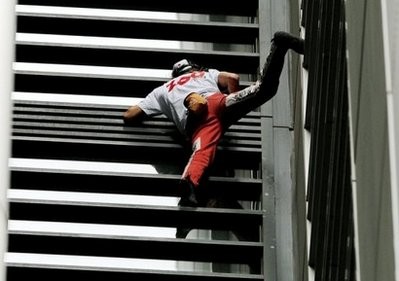 Frenchman Alain Robert (C), known as Spiderman, climbs the twin-towered 150-metre (492-foot) tall Lumiere apartment building in Sydney's business district on August 30, 2010.
Robert was arrested by police when he reached the skyscraper's roof and taken to a nearby police station, where he was charged with trespass and endangering the safety of another.
"He has been granted conditional bail to appear at the Downing Centre Local Court on Friday," police said.
Robert, 48, has overcome crippling vertigo prompted by two 15-metre falls in the 1980s to climb some of the world's tallest buildings, as well as iconic monuments such as the Eiffel Tower and the Luxor Obelisk in Paris.
He has also climbed the Sydney Opera House and Harbour Bridge and was last year fined 750 dollars (665 US) for climbing the city's 219-metre Aurora Place building without permission.
In June, Robert was forced to call off plans to scale the nearby Deutsche Bank building, towering some 240 metres high, after security guards blocked his access.