Suspected Tamil Tiger rebels set off a powerful roadside bomb in the Sri Lankan capital Wednesday, killing at least five people and wounding another 28, police said.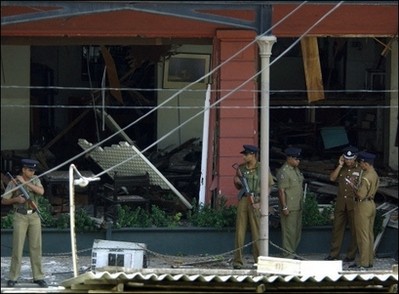 Sri Lankan police stand guard at the site of a bomb attack in Colombo, 02 January 2008 (Photo: AFP)
The powerful fragmentation mine targeted an army bus transporting wounded soldiers, although hospital officials said most of the victims were civilians.

A police official at the scene said 28 people were rushed to the Colombo National Hospital. Three people were killed instantly while two died on their way to hospital, police said, adding that one of those killed was a soldier.

Among those wounded were 11 security personnel.

The blast went off as the army bus passed the Hotel Nippon in Colombo's commercial Slave Island area, where the military has several key installations, police and witnesses said.

"We suspect it was a roadside bomb," a police official at the scene said. "There are several civilian casualties. At least another civilian bus was also hit by the blast."

"The attack has all the hallmarks of the LTTE (Liberation Tigers of Tamil Eelam)."

Tamil rebels have frequently used roadside fragmentation bombs in their decades-old war for an independent homeland in the north and east of the ethnic Sinhalese-majority island.

A similar roadside bomb killed 16 people on December 5 in the north-central district of Anuradhapura. Another 19 people were killed in a bomb attack outside a clothing store in the Colombo suburb of Nugegoda on November 28.

The latest attack came the day after a gunman shot dead a prominent Tamil MP inside a Hindu temple in Colombo.

Colombo National Hospital director Hector Weerasinghe said most of the victims following Wednesday's attack were civilians. Seven people were said to be in a critical condition.

Police and troops cordoned off the road opposite the low-budget Nippon Hotel as forensic experts began shifting through the wreckage and rubble strewn across a four-lane highway.

Army engineering units, the air force headquarters and the police VIP security unit are located in the Slave Island area where part of the road opposite the Nippon is closed at night as part of tight security.

The Nippon Hotel suffered extensive damage and staff members were also among those wounded, police and witnesses said.

The attack comes amid renewed heavy fighting in the north of the island, and after Sri Lanka's top military commanders vowed to push for victory against the LTTE in the new year.