Sri Lanka celebrated victory over the Tamil Tiger rebels with a national holiday as security forces searched for bodies, weapons and any guerrillas who slipped through the military's net.
Hundreds of troops were deployed in the Muliyawaikal area where the corpse of Tiger leader Velupillai Prabhakaran was found after the final showdown in the jungle on Monday, defence officials said.
"They are doing clearing operations," defence spokesman Lakshman Hulugalle said as more bodies were gathered for identification.
More than 400 dead rebels have been recovered from the scene of their desperate last stand, including several female fighters, according to military officials.
Prabhakaran's eldest son, Charles Anthony, was among those killed in the area, but the military had no information about the leader's wife, Madiwadani, or their other two children.
"The process of identifying the other Tiger dead bodies is now going on and we want to see if any other close relatives or associates of Prabhakaran are among the dead," a military official said.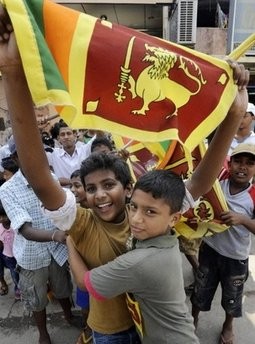 Sri Lankan people wave their national flags as they celebrate their country's military victory against the Tamil Tigers in Colombo.
Sri Lanka marked the end of decades of bloodshed with a national holiday, though security forces were on a state of high alert against revenge attacks.
"The government has also asked all state institutions to fly the national flag for one week," an official in the capital Colombo said.
The military's triumph came at the cost of many innocent lives, according to the United Nations.
The UN and human rights groups have blamed indiscriminate shelling by the military for causing many Tamil civilian casualties, while also accusing the rebels of using tens of thousands of people as a "human shield."
Relief agencies have complained that access to government-run camps housing tens of thousands of displaced civilians in the northeast has been further restricted in recent days.
UN Secretary General Ban Ki-moon is to visit Sri Lanka on Friday and Saturday to push for reconciliation on the mainly Sinhalese island.
Sri Lankan troops on Wednesday shot dead eight fugitive Tamil Tigers thought to have escaped from the final battle in which the rebels were defeated by government forces.
Five Tamil fighters tried to ambush soldiers in the eastern district of Batticaloa, 130 kilometres (80 miles) southeast of where the Tigers made their last stand.
"Close on the heels of the humiliating military defeat in the north, a five-member team of Tiger terrorists miserably failed in their mission early Wednesday when troops shot them down," the army said in a statement.
Three other Tiger rebels were gunned down in the neighbouring district of Ampara, the army said.