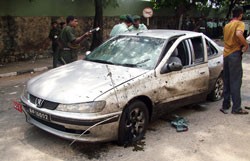 The limousine of Sri Lanka's Army Commander Sarath Fonseka moments after a suicide bomb explosion (AFP Photo)
The military said it pounded Liberation Tigers of Tamil Eelam (LTTE) bases and ships in the northeastern district of Trincomalee following Tuesday's bombing targeting the head of the army's motorcade in Colombo.
The United States led international condemnation of the attack which was blamed on a "Black Tiger" female suicide bomber. It left 10 people dead and 30 injured, including army chief Lieutenant General Sarath Fonseka.
"It's regrettable that the Tamil Tigers have decided to restart the war instead of restarting the peace process," US Assistant Secretary of State for South and Central Asian Affairs Richard Boucher told reporters in Washington.
"We are in touch with governments around the world to bring to bear whatever pressure we can on the Tamil Tigers to abandon this course of action."
The attack in Colombo put intense pressure on a shaky four-year ceasefire between the Sri Lankan government and the rebels which was already close to collapse.
At least 80 people have been killed in bombings in the past two weeks alone while Tamil rebels say 70 civilians have been killed by pro-government militia or security forces, a charge denied by the military.
Last week the Tamil Tigers indefinitely pulled out of scheduled peace talks in Switzerland, accusing the government of attacks on ethnic Tamil civilians and complaining about the transport arrangements for internal rebel meetings.
"This attack is yet another serious blow to the ceasefire agreement and the peace process," the Sri Lanka Monitoring Mission said in a statement issued before the government launched its retaliatory strikes.
It was unclear whether the military's attack in the northeast caused any casualties.
Sri Lankan President Mahinda Rajapakse made a televised address to the nation after the Colombo bombing in which he vowed to stand up to terrorism.
However despite the retaliatory strikes, the government also insisted it remained committed to the Norwegian-brokered peace process and expected the rebels to return to talks aimed at ending three decades of civil war.
The civil war in Sri Lanka between the Tigers and government forces, dominated by the majority Sinhalese ethnic group, has claimed an estimated 65,000 lives since 1983.
The Tigers are fighting for a homeland for the Tamil minority in the northeast of Sri Lanka, parts of which already fall under the de facto control of the guerrilla group.
Tuesday's suicide bombing was the largest attack blamed on the rebels since they entered into a truce with the government in February 2002 and the first in Colombo since July 2004.
Source: AFP