COLOMBO, April 24, 2009 (AFP) - Sri Lanka on Friday flatly rejected a plan by the United Nations to send a special humanitarian mission to the island's war-torn north.
"There is no need for the UN to send people from abroad to visit those areas," Human Rights Minister Mahinda Samarasinghe told reporters, a day after UN chief Ban Ki-moon announced a team would be sent to Sri Lanka.
"We have agreed in principle for a visit by UN staff based here (in Colombo) to go in there (to the conflict zone)," the minister added, signalling that Colombo remained unwilling to give free access to the north.
He said the government was working out the modalities to grant access to the Colombo-based UN staffers, but said intense fighting between troops and Tamil Tiger rebels was making it "virtually impossible."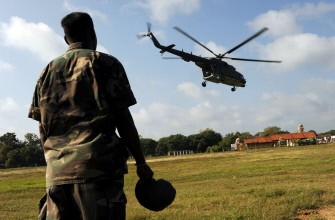 A Sri Lankan solidier watches as a helicopter takes off from the northern town of Kilinochi on April 24. The Sri Lankan army has made steady advances in recent months against the separatist Liberation Tigers of Tamil Eelam (AFP photo)
"The UN must tell us first who would be on the mission, how many days they plan to stay, what they plan to do and so forth, before we give the final green light," the minister said.
The Sri Lankan government has been blocking most aid agencies from working in the war-torn north for months, and accuses UN agencies and NGOs of supporting the Tamil Tigers.