Israelis and Palestinians start negotiations on Wednesday for the first time since relaunching the Middle East peace process, their talks overshadowed by deadly violence in Gaza and by continuing Jewish settlement activity.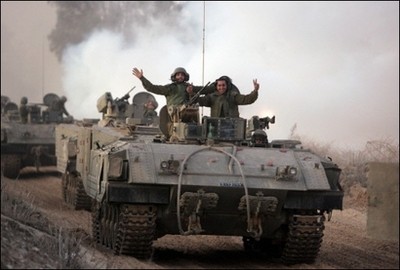 Israeli soldiers roll back into Israel from the Gaza Strip at the Sufa crossing following a military operation (Photo: AFP)
Negotiating teams headed by Israeli Foreign Minister Tzipi Livni and former Palestinian prime minister Ahmed Qorei will meet at 12:30 pm (1030 GMT) in a luxury Jerusalem hotel for a low-profile meeting away from the media glare.

Formally relaunching negotiations in the US city of Annapolis last month, Israeli Prime Minister Ehud Olmert and Palestinian president Mahmud Abbas pledged to aim for a comprehensive agreement by the end of 2008.

"I intend to invest in trying to create a path for dialogue and negotiations with our neighbors," Olmert reiterated on Tuesday. "At Annapolis we initiated an effort, which I hope will mature into ongoing and serious dialogue."

But the Palestinians are going to the meeting angry with Israel for inviting bids for more than 300 new housing units in a Jewish settlement in annexed east Jerusalem, which they dream of making their future capital.

"Israel took a step that handicaps and distracts negotiations in launching a tender bid for building at Abu Ghneim. Under the roadmap it is obliged to stop settlement activity, including natural growth needs," Abbas told AFP.

In an interview on Tuesday, the president said he had come under "pressure" from the Palestinian leadership to delay the start of negotiations in protest.

"We should promote a positive, not a negative attitude. We expect an Israeli response tomorrow. If it is negative, we will study what steps to take."

At the same time, Palestinians are furious over one of Israel's largest operations in the Hamas-run Gaza Strip in months, which killed six militants on Tuesday.

"The Israeli policy of escalation on all fronts is aimed at sabotaging and placing hurdles in the path of negotiations even before they start," said Palestinian presidency spokesman Nabil Abu Rudeina.

"The international community, and especially the United States, has to intervene immediately to put a stop to the policy of aggression and settlement and save the peace process and the negotiations before it's too late," he said.

Wednesday's meeting will focus on formalities and ways to tackle areas of conflict that have divided the two sides and proved insurmountable for decades, without yet discussing any of the specific problems.

A steering committee will appoint up to nine subcommittees, each of them to focus on the most intractable issues, Qorei said recently.

The two sides remain deeply divided on the most difficult issues -- borders, settlements, the fate of Palestinian refugees and the status of Jerusalem.

The roadmap, which they have vowed to implement, has made little progress in the four years since it was unveiled. It calls on Israel to freeze the construction of settlements and for the Palestinians to impose law and order.

Hamas also controls the Gaza Strip, a major part of any future Palestinian state. It routed Abbas loyalists six months ago, raising concerns that the president will not be able to implement any agreements that he may reach with the Israelis.