Flooding and landslides triggered by heavy rains have left 20 people dead in the eastern Philippines, meanwhile 11 people were killed and 25 injured after a tropical storm swept through a large portion of India's West Bengal state,officials said Monday.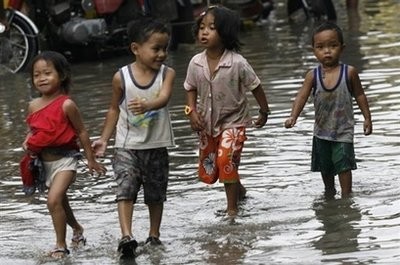 File photo shows Filipino children playing in floodwaters near the the shores of Manila Bay. (AFP Photo)
Storms lashed the eastern Bicol region and the southern fringe of Luzon island of Philippines at the weekend, displacing nearly 50,000 people in five provinces, the Civil Defense Office said.
Some parts of the eastern provinces of Catanduanes, Sorsogon, Camarines Norte, Camarines Sur and Albay remain flooded.
"There were 20 reported deaths," the agency said, adding that rescuers were still searching for three people buried by a landslide in the town of Magallanes.
Ferry operations across the eastern seaboard remained suspended, while the government rushed relief workers to the affected areas.
While the storms were dissipating and moving away, the state weather bureau said the eastern-most island of Catanduanes would continue to be battered by rains and strong winds, which may cause more flooding and floods.
At least 11 people were killed and 25 injured when a tropical storm swept through a large portion of India's West Bengal state, officials said Monday.
The 10-minute storm carried winds of over 80 kilometres (50 miles) an hour through the state, destroying thousands of mud huts, uprooting electricity and telephone poles and damaging paddy fields and mango crops.
Five people, including three children, were killed after lightning struck their mud hut in Malda, about 360km north of the state capital, Kolkata.
"Four others were electrocuted as live wire from uprooted electric poles dropped on them in villages on the outskirts of Kolkata," said West Bengal relief minister Mortaza Hossain.
Two people were killed by lightning in Canning, a town 40km south of Kolkata.
Twenty-five people were hospitalised with severe injuries after they were hit by uprooted trees, Hossain added.