WASHINGTON (AFP) – A string of aftershocks rattled the US and Mexican Pacific Coast early Monday, hours after a huge earthquake struck northwestern Mexico, killing two people and rocking buildings as far away as southern California.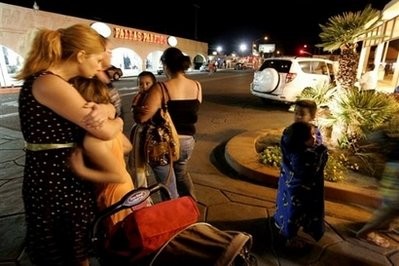 Residents from Mexicali, Mexico seek refuge after a 7.2 magnitude earthquake struck the area April 4, 2010 in Calexico, California. AFP photo
Emergency workers struggled to respond to damage and injuries after Sunday's magnitude 7.2 temblor knocked out power, damaged water lines and snarled traffic.
Roads cracked, telephone poles were toppled and walls crumbled in Mexicali, the capital of Baja California state. An untold number of homes, offices and hospitals were also damaged.
In the border city of Mexicali, located 60 kilometers (38 miles) from the epicenter of the quake, a man was killed when his home collapsed on top of him, Mexican rescue workers told AFP.
Another man died when he was crushed by a falling wall in Mexicali, where 100 people were also injured, Baja California Governor Jose Guadalupe Osuna said in a televised statement.
With no immediate reports of injuries and only limited damage, residents of California, Arizona and Nevada in the United States meanwhile breathed a sigh of relief this quake was not the feared "Big One" they have anticipated for years.
Seismologists have warned a massive earthquake is inevitable in California and could kill thousands of people.
Osuna declared a state of emergency in Mexicali, a major metropolitan hub of 900,000 inhabitants. Classes were suspended indefinitely.
"This is a large quake with the potential of causing damage because it is not far from a population center," said Carlos Valdez, director of the National Seismological Service.
A firefighter at a station just outside Mexicali told the Los Angeles Times that fires caused by the quake destroyed at least six homes after damaging propane tanks and severing electricity lines.
Several homes near the Cerro Prieto volcano some 31 kilometers (19 miles) from the quake's epicenter sank into the ground as water rose around them, according to the firefighter, Oscar Silas.
US and Mexican seismological services said the quake, which struck at 3:40 pm (2240 GMT), was shallow with a depth of just 10 kilometers (six miles). It was centered 26 kilometers (16 miles) southwest of Guadalupe Victoria in Baja California.
Among dozens of reported aftershocks, at least three were strong ones, including a magnitude 5.4 temblor that struck near Guadalupe Victoria, southeast of Mexicali, the US Geological Survey (USGS) said.
The temblor came within weeks of two catastrophic quakes in the Americas -- a January 12 earthquake of magnitude 7.0 killed an estimated 230,000 people in Haiti and in Chile, a massive 8.8 quake on February 27 left an estimated 452 people dead.
The Los Angeles Fire Department said its initial assessment found "no significant damage or injuries" but had responded to an increase in automatic alarms and stuck elevators.
The fire department was checking transportation infrastructure, large public venues, apartment buildings and power lines from the ground and the air to ensure safety.
Rides were temporarily closed at the Disneyland theme park in Anaheim, California, according to the Los Angeles Times.
KABC Television in Los Angeles said high-rise buildings in that city and in San Diego rocked back and forth when the quake hit and that some residents saw electric power poles moving.
The Yuma, Arizona sheriff's department was responding to numerous building alarms but had no immediate reports of injuries.
"A little bit of everything" fell down every aisle of Fry's grocery store, front-end manager Karla Favela told The Yuma Sun.
"The first thing I thought of -- have you seen the movie '2012?' The part when the grocery store splits in half?"
The USGS said the quake was felt as far away as Las Vegas, Nevada, some 460 kilometers (290 miles) from the epicenter, as well as in Los Angeles, 360 kilometers (224 miles) away, and in Phoenix, Arizona, 300 kilometers (186 miles) away.
Seismologists had initially reported the temblor measured magnitude 6.9.