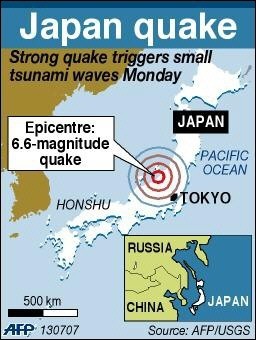 A strong earthquake measuring 6.6 on the Richter scale struck off the coast of central Japan on Monday, swaying buildings and triggering small tsunami waves.(AFP/Graphic)
Japan, which endures some 20 percent of the world's major earthquakes, was rocked by a powerful quake on Monday that killed at least five people and injured hundreds more, struck off the coast of central , collapsing houses, triggering small tsunami waves and setting off a fire at a nuclear power plant.
The tremor measuring 6.6 on the Richter scale struck off Niigata prefecture in the Sea of Japan (East Sea) and set off 50-centimetre (20-inch) tsunami waves which hit the coast within minutes, the meteorological agency said.
Television footage showed fire billowing at a nuclear power plant in Kashiwazaki, close to the epicentre, although there was no apparent risk of radiation.
Plant officials said the fire was in the electrical part of the facility and that the reactor automatically shut down following the jolt.
The quake also triggered mudslides in the city, where soil was already loose after a major typhoon over the weekend that left four people dead or missing and flooded hundreds of homes across Japan.
The government set up crisis-management headquarters, central government officials said.
On the Japanese scale which measures seismic intensity, the earthquake registered six out of seven, meaning it had the potential to cause damage.
The earthquake, at a relatively shallow depth of 10 kilometres (six miles), was powerful enough to rattle buildings in Tokyo more than 200 kilometres away.
Railway operators said bullet trains were automatically suspended as a precaution, while Niigata airport temporarily closed its runways immediately after the quake to check for damage.
Japan lies at the junction of four tectonic plates and endures about 20 percent of the world's most powerful earthquakes.
Niigata was also the scene of a major 6.8 Richter-scale earthquake in October 2004. Forty-six people were killed, many of them elderly who suffered fatigue and stress as they stayed in shelters and felt hundreds of aftershocks.
The 2004 Niigata earthquake was Japan's deadliest since January 1995, when a 7.3-magnitude tremor destroyed much of the western metropolis of Kobe, killing more than 6,400 people.