LIMA, Peru, Jan 25, 2010 (AFP) - A strong earthquake of magnitude 5.8 on the Richter scale in the Andes mountains shook large swathes of Peru on Monday, sending residents bolting outdoors but causing little damage.
The quake struck at 5:52 pm (2252 GMT) with an epicenter near Puerto Inca, in the Huanuco region some 400 kilometers (250 miles) north-east of Lima, the Peruvian Geophysical Institute reported.
Civil Defense officials said there were no reports of damage.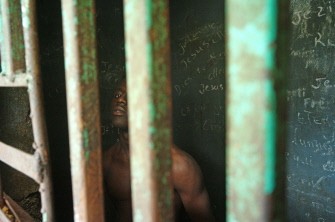 Haiti -- A man stays in an isolation's cell of a psychiatric clinic of Port-au-Prince, January 25 2010. Families who lost everything after the earthquake, decide to leave their relatives with psychaitric problems to the clinic. AFP PHOTO
On August 15, 2007 an earthquake of magnitude 7.9 devastated the province of Ica, just south of Lima, killing some 600 people and causing extensive damage to area buildings and infrastructure.
In 2009 more than 140 earthquakes with magnitudes of 4.0 and above were felt in Peru, located in a region geologists call the Pacific Ring of Fire, a region of intense seismic activity.