DUBLIN (AFP) – Four candidates Sunday launched a battle to lead Ireland's governing party after troubled Prime Minister Brian Cowen's quit the post after a series of crises forced him to announce snap polls.
Micheal Martin, the foreign minister whose departure crippled Cowen's authority, is the odds-on favourite to win the contest and take the Fianna Fall party into a general election which polls predict they will lose heavily.
He is up against Finance Minister Brian Lenihan, Defence Minister Eamon O Cuiv and Trade Minister Mary Hanafin, who also wasted no time in declaring their candidature before the 1:00pm (1300 GMT) Monday deadline.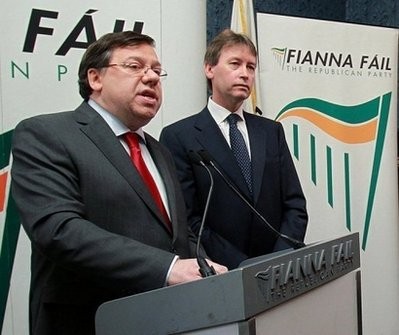 Irish Prime Minister Brian Cowen (L) and chief whip John Curran (R) give a press conference at the Merrion hotel in Dubin. AFP
Cowen stepped down Saturday after a week of political turmoil.
Despite surviving a confidence vote among his party's lawmakers on Tuesday, his authority had evaporated and was further damaged by a botched cabinet reshuffle that followed.
The premier said he had quit so that Fianna Fail could be "free from internal distractions" to fight the election slated for March 11.
He said he was nonetheless staying on as prime minister to focus on getting key budget laws passed to cement an EU-IMF bailout to revive Ireland's battered economy.
However, Cowen's government faces a confidence motion in parliament on Tuesday and the independent lawmakers on whom his coalition relies for a thin majority are threatening to turn against him too.
That would trigger the dissolution of parliament and an election even earlier than the March 11 date he announced last week.
"Taking everything into account, and having discussed the matter with my family, I have decided on my own counsel to step down as uachtarain (president) of Fianna Fail and leader of Fianna Fail," Cowen told a hastily-arranged news conference in a cramped Dublin hotel room.
"I will continue in my role as Taoiseach (prime minister) as I have before."
Martin, 50, had publicly called for Cowen to quit before Tuesday's vote and stepped down from his foreign ministry brief afterwards.
He said he would spend Sunday setting out before colleagues his vision for reviving the party.
"I believe I have the energy and the passion and the commitment to make a difference in terms of how we organise ourselves and in terms how we develop and formulate policies for the future," he said.
Irish bookmaker Paddy Power had Martin as the 1/12 runaway favourite. Lenihan, who is battling pancreatic cancer, was 11/2. O Cuiv was 16/1, with Hanafin 18/1.
O Cuiv is the grandson of Fianna Fail founder Eamon de Valera, a former Irish prime minister and president.
"I have a certain view of what the party should stand for... the ordinary people of Ireland," he said.
Other senior party figures were reported to be canvassing their colleagues.
The party's lawmakers will elect their new leader at a 2:00pm (1400 GMT) Tuesday meeting in Dublin.
Cowen has been under pressure for months over his handling of the debt crisis which brought the Irish economy to its knees and forced it to accept international loans in November.
Things turned worse when it was claimed that he tried to use Martin's resignation and the seemingly coordinated resignations of five other ministers to promote rising stars ahead of the general election.
That sparked the anger of his Green Party junior coalition partners and forced him to announce an election date.
Cowen said he would now focus on passing the Finance Bill, which includes a series of measures crucial to securing the 67-billion-euro (90-billion-dollar) bailout from the European Union and the International Monetary Fund.
Opposition parties expressed their fury with the premier.
Enda Kenny, leader of the Fine Gael main opposition party, said he should have asked President Mary McAleese for a dissolution of parliament.
"This is complete madness. We are now the laughing stock of Europe. We have a leaderless party and a powerless Taoiseach," he said.
Labour and Sinn Fein called for an immediate general election.
"It is simply not tenable for Mr Cowen to remain on as Taoiseach as his colleagues in Fianna Fail squabble over the remnants of their party," said Labour leader Eamon Gilmore.