Sudan has granted a petroleum exploration licence to China, Foreign Minister Ali Ahmed Karti said after his visiting Chinese counterpart Yang Jiechi and President Omar al-Bashir held talks in Khartoum.
"President Bashir has granted the China National Petroleum Corporation (CNPC) three promising new petroleum blocs and offered a partnership with the national petroleum company Sudapet in the fields where it operates," Karti said late Monday.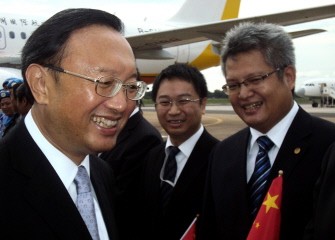 Chinese Foreign Minister Yang Jiechi is received by Chinese officials upon his arrival at Juba, the capital of newly declared South Sudan, on August 9, 2011 in the first trip by a senior Chinese diplomat to the world's newest nation following a two-day visit to Khartoum
He said Bashir also ordered that facilities be made available to Chinese firms operating in neighbouring Chad, the Central African Republic and South Sudan to transport equipment via Sudanese territory.
Yang ended a two-day visit to Khartoum before heading on Tuesday for Juba, the capital of South Sudan, in the first trip by a senior Chinese official to the world's newest nation.
A key ally of Sudan, which has suffered from US economic sanctions since 1997, China is also a major military supplier to the Khartoum regime, as well as one of the largest foreign investors and the biggest buyers of Sudanese oil.
Bashir, the target of International Criminal Court arrest warrants for alleged war crimes and genocide in Sudan's western Darfur region, visited China before South Sudan formally became independent on July 9.
CNPC dominates the Sudanese oil sector, and many of the fields it operates are located in the volatile border states of Unity and South Kordofan.