KHARTOUM, April 3, 2010 (AFP) - US envoy to Sudan Scott Gration said Saturday he was confident the country's first general elections since 1986 would be as "free and fair as possible" and would start on time on April 11.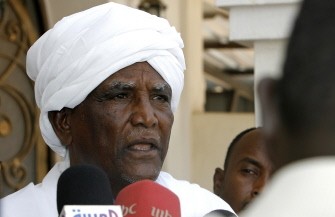 Sudanese electoral commission official Abdullah Ahmed Abdullah briefs the press following a meeting with US Sudan envoy Scott Gration in Khartoum on April 3, 2010. AFP photo
Gration was speaking to reporters in Khartoum after meeting members of the electoral commission, which earlier Saturday dismissed calls by opposition candidates for a delay in the April 11-13 general elections.
"They (electoral commission members) have given me confidence that the elections will start on time and they would be as free and as fair as possible," said Gration.