Sudanese were voting on Sunday in the country's first multi-party elections in a quarter of a century, but the polls have been marred by an opposition boycott and accusations of fraud.
Polling stations opened on schedule in Khartoum at 08:00 (0500 GMT) but election organisers in several areas were still unwrapping ballot boxes as queues began to form, an AFP correspondent said.
In the southern capital of Juba, doors opened on time, but minor logistical problems forced southern leader to Salva Kiir to delay casting his ballot.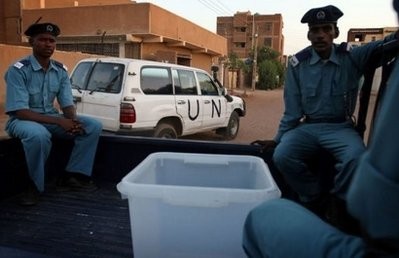 Sudanese police officers guard a ballot box being dispatched to a polling station in Khartoum.
More than 16 million registered voters are asked to vote in over 10,700 polling stations for their president as well as legislative and local representatives. Southern Sudanese will also vote for the leader of the semi-autonomous government of south Sudan.Related article: Low tech to the fore in Sudan campaigning
President Omar al-Beshir, who has ruled Africa's largest country since 1989 when he came to power in a military coup backed by Islamists, is expected to secure a comfortable win after the pullout of his key challengers.
Yasser Arman, a northern Muslim representing the former southern rebel Sudan People's Liberation Movement, and Sadiq al-Mahdi of the Umma Party both withdrew from the race before polling day.
They accuse Beshir of fraud and say free and fair conditions for the elections are not in place, particularly in Darfur, the western region under a state of emergency since civil war broke out seven years ago.
Darfur rebel movements, who control parts of the vast region, firmly rejected the elections but have so far not stated any intentions to derail the process.
While the result of the presidential poll holds little suspense, elections for parliamentary and local representatives are still fiercely competitive in many parts of the country.Related article: Carter hopes vote will meet 'international standards'
Election organisers rushed on Saturday to get ballot papers to remoter parts of the country.
Sixteen airplanes, 16 helicopters and more than 2,000 vehicles have been mobilised in the past two weeks to transport ballot boxes around the country.
"I hope that it will be completely compatible with international standards, and safe and free and fair, and that the decision of individual voters will be expressed freely without intimidation," said US former president Jimmy Carter whose Carter Centre is monitoring the three-day vote.
These are "very troubled potential times (and) we hope it will be safe and free," Carter said.
"We know there is no perfect election in the world, this is not an exception," said Abdullah Ahmed Abdullah, vice chairman of the national electoral commission.
Carter said on Friday that he expected polling to proceed without major hurdles, although some delays could be expected in more remote areas.Related article: Sudan female candidate tells women 'yes they can'
"We see no reasons for any concern except on a few isolated stations way out," said the former US leader.
Voting materials "may get there a bit late, but they will have three days at least in which to vote," he told reporters in the capital.
In the run-up to the elections, opposition parties accused Beshir's ruling National Congress of fraud, particularly when the contract for ballot papers was given to a state-owned printer arousing suspicions of potential ballot stuffing.
Security forces deployed in strength ahead of the country's first multi-party election since 1986, as did international peacekeepers in both the war-torn western region of Darfur and in the south.
More than 100,000 police officers will be on duty over the election period, a security official said, as embassies in Khartoum advised their nationals to adopt "precautionary measures" such as stocking up on food and fuel.