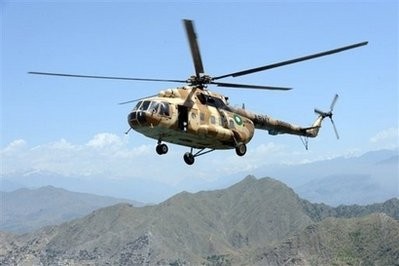 A Pakistani military MI-17 helicopter flies over the mountainous over the Swat valley in June 2009.
A suicide attack in Pakistan's northwestern valley of Swat on Sunday left at least 10 policemen dead, officials said.
"The policemen were being given training in Mingora town when a suicide bomber entered the ground and blew himself up near the recruits, killing 10 of them," Swat police chief Qazi Ghulam Farooq told AFP.
A senior administration official, Ateef-ur-Rehman, also confirmed the attack and said there were a number of casualties, adding police had been put on high alert.