A suicide attack outside a mosque in eastern Afghanistan on Wednesday killed at least 10 people and wounded dozens more with high-ranking officials among the casualties, officials said.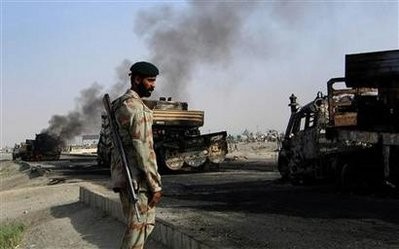 A paramilitary soldier inspects burnt vehicles along the Chaman Pakistan-Afghanistan border, August 31, 2009.
The bomber blew himself up outside the main mosque in Mihtarlam, the provincial capital of eastern Laghman province.
"There was a suicide attack outside Mihtarlam mosque. There are a big number of civilian deaths. A number of government officials have also been killed," interior ministry spokesman Zemarai Bashary said.
An official at the Afghan health ministry said at least 10 bodies had been brought into hospitals with 36 people wounded.
A spokesman for the provincial government put the death toll at 20.