A suicide car bombing outside the Danish embassy in the Pakistani capital Islamabad killed at least eight people and wounded nearly 30 others, state media and officials said Monday.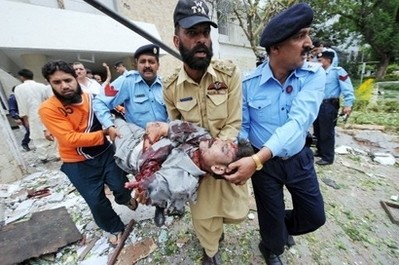 Pakistani policemen carry a body following a suicide attack outside the Denmark embassy in Islamabad. (AFP Photo)
The blast left a huge crater outside the embassy, damaging the building and a nearby development agency. Dozens of cars were wrecked by the force of the explosion and some were on fire, an AFP reporter said.
Denmark had recently downgraded the embassy and moved out most foreign staff due to threats linked to a furore over the reproduction in Danish media in February of cartoons of the Prophet Mohammed, diplomatic sources said.
"It was a suicide attack carried out in a vehicle, apparently targeting the Denmark embassy," a senior Pakistani security official told AFP on condition of anonymity.
Government-run television and the official Associated Press of Pakistan news agency both said at least eight people were killed in the blast and several more injured. TV channels showed smoke rising above the scene.
In Copenhagen, Danish Foreign Minister Per Stig Moeller called the attack "totally unacceptable" and called an emergency ministerial meeting following the blast.
"I of course condemn this attack. It is terrible that terrorists commit such acts," Moeller told Danish TV2 News.
In April, Denmark moved embassy staff in Algeria and Afghanistan to secret locations due to threats linked to the Mohammed cartoons row. The country also has some 550 troops stationed in Afghanistan's southern Helmand province.
Norway temporarily closed its embassy in Islamabad after the attack, foreign ministry spokesman Tor-Henrik Andersen told AFP in Oslo.