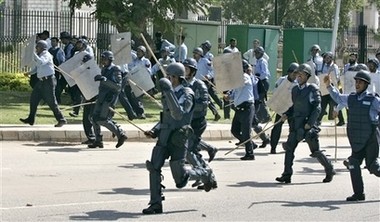 Pakistani police officers chase protestors during a clash in Islamabad, Pakistan on Saturday, Sept. 29, 2007. (AFP Phtoto)

A suicide bomber struck near Pakistani security forces in a northwestern town on Monday, killing at least 13 people and wounding 20 others, officials and witnesses said.
The blast happened on the outskirts of Bannu, a key garrison town near Pakistan's troubled tribal areas bordering Afghanistan where the army is battling Al-Qaeda and Taliban militants.
"It was an apparent suicide attack by a bomber in an autorickshaw," police officer Asar Islam told AFP, adding that at least two policemen were among the dead.
Thirteen bodies had been brought to the local hospital and 20 wounded people were being treated, some of whom were in critical condition, doctor Mohammad Usman said.
Witnesses who saw the blast said the attack happened shortly after a military convoy had passed the site, which is near a police post on a main intersection.
Pakistan has suffered a string of deadly attacks since government troops stormed the Al-Qaeda-linked Red Mosque in Islamabad in July. Many of the attacks have been on the military.