Twin suicide bombers struck a crowd of displaced people clamouring for aid handouts, killing at least 27 people on Saturday at a camp in northwest Pakistan, police said.
The bombers struck minutes apart in the Kacha Pukha camp on the outskirts of the garrison city of Kohat, a registration centre for people fleeing Taliban violence and Pakistani army operations close to the Afghan border.
The attacks underscored the grave threat still posed by extremists despite stepped up Pakistani offensives and a significant increase in US drone attacks targeting Taliban and Al-Qaeda-linked commanders in the nearby tribal belt.
"At least 27 people have died. There are 45 wounded. The toll may go up," Kohat police chief Dilawar Khan Bangash told AFP by telephone from the scene.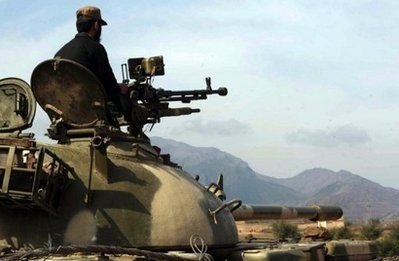 A Pakistani soldier patrols Kohat in February 2010. Twin suicide bombers killed 27 people as they detonated their explosives near a crowd of displaced people clamouring for aid handouts in northwest Pakistan
"Both were suicide attacks. Body parts of the suicide bombers have been recovered. The blasts took place at the relief distribution point for internally displaced people," he said.
Bangash said the first bomber detonated his explosives while displaced people gathered to receive relief items. A few minutes later the second bomber blew himself up in the middle of the gathering crowd.
Other officials confirmed two blasts, but Khalid Omarzai, the local chief of administration, initially told Geo television station that the second had been a planted device.
Northwest Pakistan has suffered a major internal displacement of people as a result of Taliban violence and a series of military offensives concentrated on flushing out the armed Islamists from parts of the northwest and tribal belt.
The United Nations says 1.3 million people are currently displaced.
Pakistan's latest military offensive and ongoing extremist violence have displaced at least 210,000 people from the tribal districts of Orakzai and Kurram, most of whom have registered in Kohat and Hangu towns.
Northwest Pakistan suffers from chronic insecurity largely connected to the neighbouring semi-autonomous tribal belt, which Washington calls the most dangerous place on Earth and a global headquarters of Al-Qaeda.
A campaign of suicide and bomb attacks have killed more than 3,200 people in less than three years across the nuclear-armed country of 167 million, blamed on Al-Qaeda, Taliban and other extremist Islamist groups.
On Friday, a suicide bomber blew himself up at the main hospital in the southwestern city of Quetta, killing 10 people, in what police said was an apparent sectarian attack linked to the shooting of a Shiite banker.
Under US pressure, Pakistan has in the past year significantly increased operations against militants in its tribal belt, which became a stronghold for hundreds of extremists who fled Afghanistan after the 2001 US-led invasion.
Last year, a total of 3.1 million people were displaced from their homes in Pakistan's North West Frontier Province and the semi-autonomous Federally Administered Tribal Areas along the Afghan border.
Nearly two million people have returned home, but uncertainty continues in the wake of ongoing clashes between troops and the Taliban.
Jean-Maurice Ripert, the UN special envoy in charge of humanitarian affairs for Pakistan, last week pressed donors for urgently needed funds for the displaced amid warnings that some aid projects may have to be cut.
Monday, the UN humanitarian coordinator for Pakistan, Martin Mogwanja, said in Islamabad that the world body had so far received only 106 million dollars from the donors, barely 20 percent of a total appeal for 537 million dollars.
Orakzai, the current focus of Pakistani military operations, is a former bastion of Tehreek-e-Taliban Pakistan leader Hakimullah Mehsud, whom US officials believe probably died in a US drone attack in January.
The Pakistani military says it has no evidence he is in the area.