Five years on, Russian authorities have not learnt from the Beslan hostage siege, survivors of one of Russia's worst massacres in recent memory said Tuesday as they marked its grim anniversary.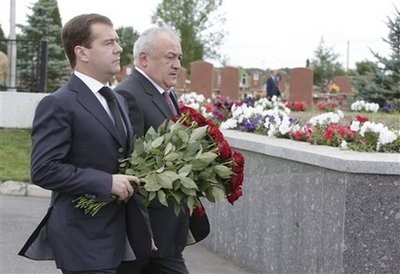 Russian President Dmitry Medvedev visits a memorial cemetery of the victims of the 2004 Chechen terrorist siege of a school in the North Ossetian city of Beslan, Saturday, Aug. 8, 2009.
Several hundred relatives and survivors gathered at the crumbling ruins of School Number One in this southern town to commemorate the hostage disaster that took the lives of over 330 people, including 186 children.
The painful memory of the massacre that left a host of questions unanswered is slowly fading away and President Dmitry Medvedev did not mention the Beslan siege as he congratulated Russians on the start of a new academic year.
Survivors and relatives of those who perished in the massacre said they had yet to see a fair investigation into the tragedy and complained that the security situation in the north Caucasus was deteriorating daily.
"Five years ago, after Beslan, we thought that the world had to change," said Valentina Ostaniy, who was at the besieged school together with her son and nephew.
"But years later we see that nothing has changed. We are still afraid to send our children off to school because terror acts which have become yet more horrific and devious, take place in northern Caucasus every day."
Tuesday's memorial ceremony started with the school bell ringing at 9:15 am (0515 GMT), exactly the time when militants stormed the school in this town in the mountainous province of North Ossetia in southern Russia's turbulent Caucasus region.
Hundreds of parents, relatives and survivors brought flowers, toys and water bottles in memory of those left without water during the three-day siege that ended in bloodshed on September 3.
An Orthodox priest performed the prayer service, and the North Ossetian leader, Taimuraz Mamsurov, whose son and daughter are among the survivors, laid flowers.
The Voice of Beslan, an organisation representing the victims of the school siege, and other activists will hold a vigil at the school for the next three days and nights.
Beslan was a scene of carnage.
An explosion went off inside in the school, where gunmen demanding the end of the war in Chechnya had been holding more than 1,000 hostages, a large number of them children, since September 1 -- the day Russians celebrate the start of the academic year.
The blast triggered an all-out battle between Russian special forces and the mostly Chechen gunmen.