OSLO, Aug 20, 2011 (AFP) - Several hundred survivors of the shooting spree by a rightwing extremist on an island near Oslo were to make their first return Saturday to the site where 69 mainly young people were killed in cold blood.
Norwegian security services, who organised the painful visit, said 750 people -- survivors and relatives or close friends -- showed up for the visit to Utoeya island where Anders Behring Breivik opened fire at a summer camp for members of the youth wing of Norway's ruling Labour Party.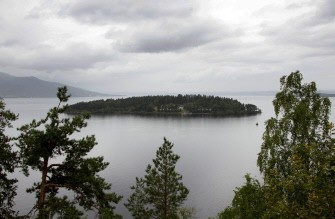 AFP - This vies shows the island of Utoeya
"I know this is going to be a very difficult day to live but I also know this is necessary to lighten my burden in the future," said Adrian Pracon, 21, who was hit but survived the killer's bullets on July 22.
Pracon crossed paths with Breivik twice that day on the tiny, heart-shaped island. The young man had thrown himself into the water fully dressed but turned back, realizing he couldn't swim all the way to the mainland.
"When I got back to the bank, he was there, five or 10 metres (yards) from me, firing on others trying to swim away. He turned around and pointed his gun at me," he said.
"I was exhausted; all I managed to say was 'don't shoot'. He seemed to stop and think for a moment then he left," Pracon said.
His second encounter with the killer came a few minutes later, at almost the same spot where several other young people had gathered.
"I laid down and played dead. He shot at me to make sure I was indeed dead. I think he aimed at my head but he missed me and I was hit in the shoulder," he recalled.
Norway's Prime Minister Jens Stoltenberg was also expected to join the survivors on the island, where a huge team of doctors, psychiatrists, and both Christian and Muslim clergy were on hand to give support .
On Friday, around 500 relatives of victims also gathered for their first visit to the island, which lies some 40 kilometres (25 miles) northwest of Oslo, as Behring Breivik made his second court appearance in the capital.
Earlier on July 22, Behring Breivik had set off a car bomb outside government offices in Oslo which killed another eight people to provide a distraction as he ran amok on Utoeya.
The 32-year-old rightwing extremist has confessed to both attacks, saying he was engaged in a crusade against multiculturalism and Muslim immigration.