BERLIN, Nov 19 (AFP) – A suspected bomb in a suitcase that was to be put on a Munich-bound plane was intercepted in Namibia, German police said, a day after Berlin issued an alert about an imminent attack.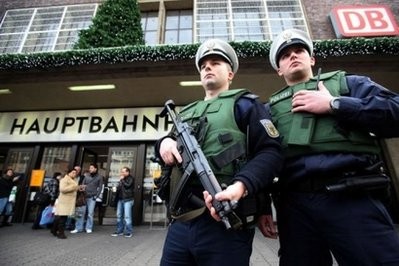 Police officers patrol near the main train station of Duesseldorf, western Germany, on November 18, 2010. AFP
The BKA federal police force said the suspicious baggage had been seized Wednesday at the international airport near the capital Windhoek before it was due to be loaded on to an LTU/Air Berlin flight to Munich, southern Germany.
"A subsequent X-ray (of the luggage) revealed batteries that were attached with wires to a detonator and a ticking clock," it said in a statement.
"Only the ongoing forensic investigation will show whether this was a live explosive."
Namibian police told state television that the piece of luggage seized was a laptop bag wrapped in plastic and confirmed it contained wires and a timer.
"Our officers found the parcel suspicious as it did not have a travel tag and it was thus removed from the luggage," said Inspector General Sebastian Ndeitunga.
Passengers on the flight as well as all luggage in the hold and the aircraft itself underwent subsequent checks before the Airbus plane was given clearance to take off. It arrived safely in Munich overnight.
A spokeswoman for Air Berlin, Germany's second largest airline, said the baggage had not been checked in.
"It is an unlabelled piece of luggage, which means that its destination was not indicated nor was the airline with which it was to fly. In other words it was an unattended piece of luggage in the hall at Windhoek airport where luggage is processed," she said.
"It is possible that it only happened to be there at the time the Air Berlin plane was to be loaded."
But Interior Minister Thomas de Maiziere said authorities had found "several indications" that the baggage was to be put on the Munich-bound flight.
The plane had 296 passengers and 10 crew members on board and was delayed six hours, the Air Berlin spokeswoman said.
The German government hiked security measures at rail stations, airports and other public spaces Wednesday following a tip-off from a "foreign partner" about an attack planned this month.
"Since the middle of 2010, the security services have noticed increased indications that the terrorist organisation Al-Qaeda has been planning attacks in the United States, in Europe and in Germany," De Maiziere said.
Citing security sources, the Tagesspiegel daily reported that the United States had told Berlin that between two and four Al-Qaeda operatives were on their way to Germany and Britain to attempt attacks.
Among the targets Tagesspiegel cited were Germany's popular Christmas markets. The paper added the militants were expected to arrive in Germany on November 22 via India or the United Arab Emirates.
Last month authorities discovered two US-bound parcel bombs originating from Yemen, one of which went through Cologne airport in western Germany.
And on November 2, an explosive device arrived by post at Chancellor Angela Merkel's office in what De Maiziere said was likely an attempted attack by Greek leftist radicals.
The head of Germany's police union, Konrad Freiberg, warned Thursday that the country was underprepared for a terrorist attack.
"We have missed a few steps along the way and there are security deficits that we have drawn attention to," he told the Hamburger Abendblatt daily.
Germany, which opposed the 2003 US-led invasion of Iraq but has nearly 5,000 troops in Afghanistan under NATO command, has never suffered an attack by Muslim extremists on its own soil.
But authorities say the Islamist scene is large and dangerous.
The closest it has come to an attack was in July 2006 when Islamic militants placed suitcases with homemade bombs on two regional trains at Cologne's main station. They failed to detonate, averting an almost certain bloodbath.
Three of the September 11, 2001 hijackers including their ringleader Mohammed Atta, who flew the first plane into the World Trade Center, lived in the northern German city of Hamburg before moving to the United States.