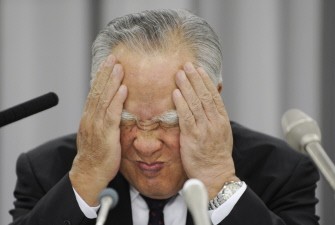 Suzuki Motor Corp. Chairman Osamu Suzuki holds his head as he answers questions during a press conference to announce the company's financial result in Tokyo on November 2, 2009 (AFP photo)
TOKYO, Nov 2, 2009 (AFP) - Japan's Suzuki Motor Corp. said Monday that its net profit fell by 63.4 percent in the fiscal first half from a year earlier due to weak sales, but it boosted its full-year forecast.
The manufacturer of small cars and motorcycles said its net profit came to 12.5 billion yen (140 million dollars) for the April-September period.
Operating profit plunged 47.5 percent to 31.8 billion yen.
Revenue shrank 31.3 percent to 1.18 trillion yen "due to sales drops at home and abroad as well as the impact of the yen's rise," which has reduced overseas income when repatriated, the company said in a statement.
Suzuki however sharply upgraded its annual forecasts, saying the first-half results were better than expected, because of cost cuts and a smaller-than-expected appreciation of the yen.
It projected a net profit of 15 billion yen, up from five billion yen the group forecast in May.
Operating profit is now estimated at 40 billion yen, up from 10 billion yen. Revenue is forecast at 2.3 trillion yen, unchanged from the earlier projection.
The new forecasts still fall short of the previous year's results. The revised figures would mean a 45.3 percent decline in net profit, a 48.0 percent drop in operating profit and a 23.5 percent slump in sales from last year.