The number of swine flu victims topped the 1,000 mark on Monday as the United Nations' most senior health official warned a second wave of the virus could be far worse.
As Mexico, the epicenter of the outbreak, prepared for the reopening on Wednesday of restaurants and businesses shuttered by the A(H1N1) virus, the number of affected countries climbed once again.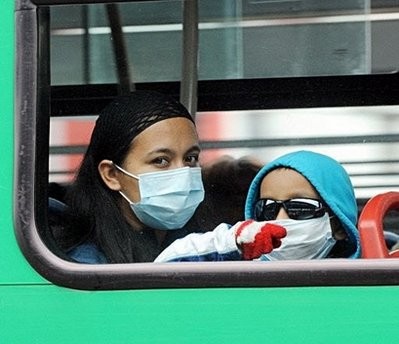 A woman and her son wear face masks to prevent the infection by influenza A(H1N1) virus (swine flu) while travelling on a bus in Bogota.
Mexico raised its confirmed swine flu toll to 26 deaths and 776 infected cases on Monday, but said the epidemic appeared to be slowing.
But the sense of alarm grew in Britain with the virus found in seven people who had not been to Mexico, and the World Health Organization (WHO) and US President Barack Obama urged vigilance.
Acting WHO director-general Keiji Fukuda earlier said there were 1,025 confirmed cases of swine flu, including 26 deaths, spread across 20 countries. One person has also died in the United States.
"In this situation, it's critical that we continue to maintain and strengthen our alert and surveillance," he said.
WHO chief Margaret Chan told UN officials in New York that despite the continued spread, a pandemic could not yet be declared.
"We don't know how long we have till we move to phase six. Six indicates we are in a pandemic. We are not there yet."
Chan said the end of the flu season in the northern hemisphere meant that while any initial outbreak could be milder, a second wave could be more lethal, reflecting a pattern seen with the 1918 Spanish flu pandemic that killed up to 50 million people.
Its re-emergence "would be the biggest of all outbreaks the world has faced in the 21st century," she told the Financial Times.
Mexican President Felipe Calderon said the epidemic, which has brought the country's tourism industry to its knees, had been contained and that schools, businesses and some tourist venues would reopen in coming days.
Mexico aims to get "back on the path to normality" after containing its swine flu epidemic thanks in large part to a week-long shutdown, Calderon said, while warning that the virus "is still present and there remains a risk of it propagating."
Experts cautioned the virus was far from defeated and could return with "a vengeance."
UN chief Ban Ki-moon echoed appeals for caution, saying at the UN talks: "There is still much that is not known about this new strain and the dangers it poses ... In the face of uncertainty, we must be vigilant."
Obama also pleaded for caution as the United States recorded 286 cases of swine flu in 36 of the nation's 50 states.
"Certainly you're always hopeful that what you plan for may never come to fruition. But the key is to prepare for any outcome and be prepared to address it," the US president said.
But US Centers for Disease Control and Prevention (CDC) acting director Richard Besser ruled out the need to mass produce a vaccine right away.
Portugal was the latest country to record a case of swine flu, while France announced two new confirmed cases as did Italy, doubling their previous caseloads.
In China, at the center of the 2003 SARS outbreak, authorities have been accused of discriminating against Mexicans in a bid to keep out the virus.
Although no case of swine flu has been reported on mainland China, one Mexican who stayed in a hotel in Hong Kong tested positive.
China sent a chartered plane Monday to pick up 200 stranded citizens from flu-hit Mexico after the two countries reached a repatriation deal.
A Mexican embassy official in Beijing said nearly 70 Mexicans had been quarantined across China including in Beijing, Shanghai and the southern city of Guangzhou, despite not having flu symptoms.
Canadian broadcaster CBC also reported that 25 Canadian students had been quarantined on arrival in northeastern Changchun, even though they showed no signs of the virus.
Canadian health authorities meanwhile announced dozens of new cases of swine flu, including a young girl hospitalized in western Alberta province with the country's first severe symptoms, bringing the national toll to 140 cases -- the third highest number of cases after the United States and Mexico.
Experts were still seeking answers to questions about influenza A(H1N1), among them why the virus has led to diarrhea, which is not commonly reported in typical flu. They were also examining why the disease has led to severe pneumonia and death in some young people.