China confirmed Monday its first case of swine flu on the mainland, underlining the outbreak's global spread, as the United States reported hundreds more cases and warned of further deaths.
Worldwide, the death toll passed 50 after Costa Rican authorities reported its first fatality from the virus, officially known as A(H1N1) influenza, and the United States confirmed a third death.
Fears that infections would gather pace were heightened when China said it had detected its first mainland case in a man who had recently travelled back from the United States.
The 30-year-old was hospitalised with a fever after arriving in the Sichuan provincial capital Chengdu, in southwestern China, from the United States via Tokyo on Saturday afternoon, the health ministry said.
"This is our country's first case of A(H1N1)," its spokesman Mao Qunan said in a statement on its website.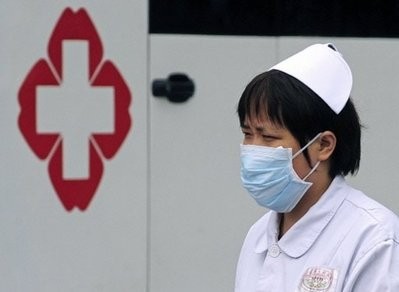 A nurse wears a mask at Sichuan Provincial People's Hospital in Chengdu in China's Sichuan province
State television said the man, surnamed Bao, was in a stable condition. He flew from Tokyo to Beijing on a Northwest Airlines flight before connecting on a domestic flight to Chengdu, the ministry said.
China, which has come under criticism from abroad for its tough swine flu quarantine measures, was seeking a number of passengers, including foreigners, who took the same Northwest flight as Bao, state media reported.
They included 144 passengers on the flight to Beijing and about 150 on the Beijing-Chengdu flight aboard Sichuan Airlines, state television added, saying some had already been located.
The virus was first reported in Mexico in April but has spread to more than 30 nations since and the global number of infected cases is at least 4,380.
In response to the outbreak, Beijing has barred direct flights from Mexico and banned imports of Mexican pork.
Relations between China and Mexico soured when scores of Mexicans were put under quarantine after a Mexican who flew to Hong Kong was confirmed with the virus.
The Mexican foreign ministry said Sunday that 14 nationals remained under quarantine in China, most of them in Shanghai.
China says its measures are needed to stop the virus spreading through Asia and to avoid "catastrophic consequences" in the world's most populous nation.
Separately, five new cases of swine flu were reported in Canada on Sunday, bringing the total number of people infected there to 286.
Sweden confirmed its second case of swine flu in a man recently back from New York, health authorities said.
The United States, which has now overtaken Mexico as having the most swine flu patients, confirmed its third death nationally, a man in his 30s with an underlying heart condition in the northwestern state of Washington.
It was the first US death outside the state of Texas bordering Mexico where 48 of all swine flu deaths so far have been recorded.
"The ongoing outbreak of novel influenza A(H1N1) continues to expand in the United States," the US Centers for Disease Control and Prevention (CDC) said.
"More cases, more hospitalizations and more deaths from this outbreak will occur over the coming days and weeks."
The United States on Sunday said it had confirmed 2,532 cases of swine flu with 104 people hospitalized; Mexico has 1,578 confirmed cases, including its 48 deaths, and done 5,580 tests, according to the government.
Mexico was due Monday to re-open most primary schools after a shutdown to contain the outbreak, but six of 32 states were keeping schools closed due to further flu fears.
Japan, meanwhile, stepped up follow-up checks to prevent any spread after confirming its first cases in four Japanese who had arrived at Tokyo's Narita airport on Friday on the same flight from the US city of Detroit.
The four confirmed cases and another 48 passengers who were sitting nearby are either in hospital, or have been taken to a hotel near the airport to be isolated for 10 days.
Spain, Britain, France, Germany, Italy and Israel join the United States, Mexico, Canada and Costa Rica as the ten countries with the most infections.