PARIS, Aug 29, 2009 (AFP) - Swine flu spreads four times faster than other viruses and 40 percent of the fatalities are young adults in good health, the world's top health official said in an interview appearing Saturday.
"This virus travels at an unbelievable, almost unheard of speed," World Health Organisation Director General Margaret Chan told France's Le Monde daily in an interview.
"In six weeks it travels the same distance that other viruses take six months to cover," Chan said.
"Sixty percent of the deaths cover those who have underlying health problems," Chan said. "This means that 40 percent of the fatalities concern young adults -- in good health -- who die of a viral fever in five to seven days.
"This is the most worrying fact," she said, adding that "up to 30 percent of people in densely populated countries risked getting infected."
More than 2,180 people around the world have died from the virus since it was uncovered in April.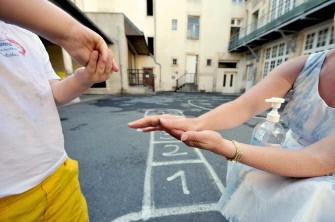 A woman shows a child how to wash his hands with an antibacterial hand gel, on August 28, 2009, at the Sainte Marie Institute, in Caen, northwestern France (AFP photo)
Some tropical countries are already reporting strains on their healthcare systems amid surges in infections.
Chan also said that it could be months before sufficient vaccine is available to combat the pandemic.
She put world production capacity at 900 million doses a year, for a global population of 6.8 billion people.
Even if this was an unprecedented effort, and authorities were speeding up procedures for getting vaccines to the market, there should be no question of compromises on their safety and effectiveness, Chan said.