Source from Vietnamnews said on June 16 that Swiss President Johann Schneider Ammann and Vietnamese Vice President Dang Thi Ngoc Thinh affirmed the importance of increased co-operation during their meeting in Bern.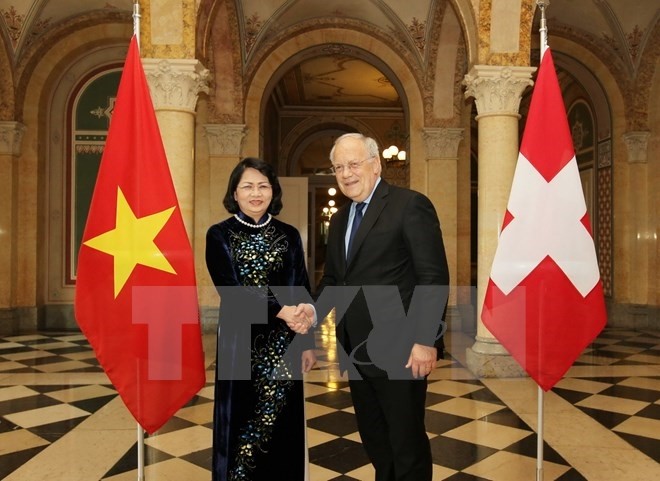 Vice President Đặng Thị Ngọc Thịnh meets with Swiss President Johann Schneider Ammann in Bern on Tuesday.— VNA/VNS Photo Quang Hải
Ammann said Switzerland considered Việt Nam a priority partner in the Asia-Pacific region while Thịnh expressed her hope for deepened ties.
Host and guest agreed on the need to maintain the exchange of delegations and step up the two countries' co-odirnation at multilateral forums and international organisations.
The two sides will join hands to organise activities marking the 45th anniversary of their diplomatic ties.
They also agreed to enhance economic collaboration, focusing on finance, banking, insurance, manufacturing, pharmaceutical products, agriculture and tourism, which are Switzerland's strengths and those sought by Việt Nam.
The two countries will also strengthen their partnership in education-training and science-technology.
Việt Nam will create optimal conditions for Swiss businesses to set up stable and long-term operations in the country, Thịnh pledged.
She thanked the Swiss Government for its official development assistance (ODA) describing it a significant contribution to poverty reduction and socio-economic development in Việt Nam.
Ammann stressed that Switzerland wished to soon conclude the negotiations and signing of a free trade agreement between Việt Nam and the European Free Trade Association of which Switzerland is a member, together with Iceland, Norway and Liechtenstein.
The President noted his hope that the deal, once in effect, would open up new co-operation opportunities for Vietnamese and Swiss enterprises.
He noted that along with the ODA, Switzerland will pour more investments into the Southeast Asian nation.
Regarding the East Sea issue, the President shared his concern over the regional tension and voiced his backing for Việt Nam's stance on settling disputes by peaceful measures.
The same day, Thịnh met with the staff of the Vietnamese Embassy and representatives of the Vietnamese community in the host country.
She also had a meeting with Anjuska Weil, President of the Việt Nam-Switzerland Friendship Association, whose activities support Vietnamese victims of wars and Agent Orange (AO)/dioxin