Switzerland confronted an international backlash and charges of intolerance on Monday as Islamic nations reacted with anger to a shock vote to ban new minarets.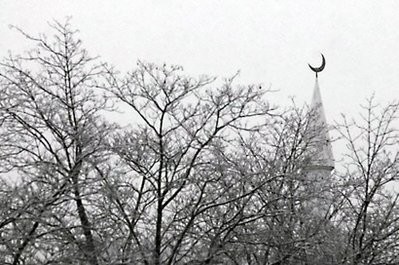 The minaret of a mosque is pictured in Zurich.

The Vatican joined in expressions of dismay after Sunday's vote for a constitutional ban on the construction of towers attached to mosques, while the government moved to assure Muslims it was not a rejection of their religion.
Some 57.5 percent of those who cast ballots supported the measure amid a high turnout by Swiss standards of 53 percent.
There was harsh criticism in Egypt, Indonesia, Lebanon and other Islamic countries while Pakistani religious groups condemned it as "extreme Islamophobia."
"Such an anachronistic referendum should not have been allowed to take place in these times," said Turkey's culture minister, Ertugrul Gunay.
The largest Muslim group in Indonesia, the world's biggest Muslim-majority country, condemned it as a manifestation of religious "hatred" but urged a restrained response.
"This is the hatred of Swiss people against Muslim communities," said Maskuri Abdillah, head of Nahdlatul Ulama which has 40 million members.
"They don't want to see a Muslim presence in their country and this intense dislike has made them intolerant," he told AFP.
The imam of Switzerland's biggest mosque, in Geneva, meanwhile called on the Muslim world to "respect, without accepting" the outcome and to avoid abandoning ties with Switzerland.
In an interview with AFP, Youssef Ibram nonetheless sharply criticised Swiss authorities for not intervening more forcefully in defence of religious freedom before the referendum got off the ground.
The message was echoed by Farhad Afshar, who heads the Coordination of Islamic Organisations in Switzerland.
"The most painful for us is not the minaret ban, but the symbol sent by this vote. Muslims do not feel accepted as a religious community," he said.
Muslims account for just five percent of Switzerland's population of 7.5 million people, and form the third largest religious group after the dominant Roman Catholic and Protestant communities.
The result flew in the face of opinion polls that had predicted a 'no' vote and surprised government ministers who had opposed the ban alongside the bulk of Switzerland's political and religious establishment.
The government rushed to assure the country's Muslims that the outcome was not a rejection of Muslim religion or culture, and Foreign Minister Micheline Calmy Rey met ambassadors from Islamic countries to "explain."
Criticising the ban, Justice Minister Eveline Widmer-Schlumpf acknowledged however that the result "reflects fears among the population of Islamic fundamentalist tendencies."
Members of the hard-right Swiss People's Party (SVP) -- Switzerland's biggest party -- and other right wing groups had brought the referendum after petitioning 100,000 signatures from eligible voters.
Other European anti-immigrant parties sought to capitalise on the result, but it was largely condemned elsewhere in Europe. Related article: Worldwide criticism of the minaret ban
Swedish Foreign Minister Carl Bildt, whose country holds the European Union presidency, called the vote "an expression of quite a bit of prejudice and maybe even fear" and "a negative signal in every way."
His French counterpart Bernard Kouchner castigated "an expression of intolerance."
The Organisation for Security and Cooperation in Europe (OSCE) warned the vote had the potential "to create tensions and generate a climate of intolerance against Muslims."
The secretary general of the Council of Europe, Thorbjorn Jagland, said it raised concerns of whether fundamental individual rights that are protected by international treaties should be subject to popular vote.
Swiss newspapers warned that the referendum had inflicted "spectacular damage" to the country's international standing.
Le Temps newspaper said the vote had been "inspired by fear, fantasies and ignorance."
Switzerland has just four minarets as well as some 200 mosques, according to official sources.
The constitutional amendment only bans the construction of further minarets while a cornerstone of the Swiss constitution, the freedom of religious worship, is unchanged.