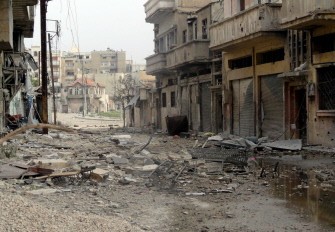 A handout image released by the Syrian opposition's Shaam News Network on July 6, 2012 shows destruction, allegedly caused by shelling by government forces, in the central restive city of Homs.
A meeting of over 100 countries on the Syria crisis called in its final statement for President Bashar al-Assad to stand down as part of a transition in the violence-wracked nation.
"Participants agreed and clearly affirmed that those whose presence would compromise the transition's credibility should be distanced. In this respect, they stressed that Bashar al-Assad should leave power," it said.