Security forces shot dead four people and made arrests across Syria on Sunday, as funerals were held for protesters and mourners killed in a bloody crackdown which activists said cost 120 lives.
Despite a relative lull, the four people were shot dead and several others wounded in the Mediterranean town of Jableh, near the port city of Latakia, a human rights activist said.
He said the latest violence broke out after a visit to the town by a new regional governor who met local dignitaries in a mosque.
Students, meanwhile, called for a strike and two MPs resigned after bloodshed on Saturday when Syrians swarmed the streets to bury scores of demonstrators killed in protests the previous day.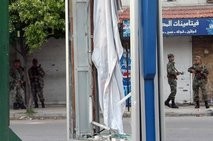 Syrian soldiers guard a street in the port city of Latakia, 350 km northwest Damascus, in March 2011.
At least 120 people were killed in the two-day crackdown, the Committee of the Martyrs of the 15 March Revolution said.
It issued an updated list of names of 95 people it said were killed on Friday in massive protests which swept across Syria. And the death toll for Saturday has risen to 25 people killed by gunfire, it said.
Most were killed in the southern protest hub region of Daraa and in and around Damascus, during funerals of people killed on Friday.
Human Rights Watch (HRW) urged the United Nations to probe the "carnage" from the massive "Good Friday" demonstrations and called for sanctions against officials responsible for the killings.
About 10 people were arrested on Sunday in Damascus, Homs, Daraa and other towns, activists said.
A group of more than 100 intellectuals and journalists, in a joint statement, condemned the regime's crackdown and urged state media workers to resign.
The Syrian Observatory for Human Rights said dozens of people were detained in northern Syria on Friday, just a day after President Bashar al-Assad lifted decades of emergency rule.
It gave the names of 18 men rounded up in the northern cities of Idlib, Raqqa and Aleppo, but said "dozens more were arrested in other Syrian towns."
Police checkpoints have gone up across Damascus, with some neighbourhoods locked down and only residents allowed in after identity checks, witnesses said.
On Thursday, Assad signed decrees ending a draconian state of emergency, imposed by the Baath Party when it seized power in 1963, to placate more than a month of pro-democracy protests.
He also abolished the state security court that has tried scores of regime opponents outside the normal judicial system and whose verdicts cannot be appealed.
Tens of thousands swarmed cities and towns across Syria on Friday to test implementation of the reforms, but security forces used live rounds and tear gas against them, activists said.
"After Friday?s carnage, it is no longer enough to condemn the violence," Joe Stork, deputy Middle East director at Human Rights Watch, said in a statement.
"Faced with the Syrian authorities? 'shoot to kill' strategy, the international community needs to impose sanctions on those ordering the shooting of protesters," he said.
Thousands of people on Sunday attended the funerals in the southern town of Noa of five of those killed on Saturday and later demonstrated without any police intervention, an activist told AFP.
They carried banners calling for the abrogation of an article in the constitution designating the Baath party as leader of the state and society, the activist said.
Several weeks of protests have been demanding across-the-board political reforms as well as dissolution of the feared security services who have cracked down mercilessly against demonstrators.
The Syrian Revolution 2011 group, a driving force behind the protests, indicated it would keep up the pressure. "We are going out (on the streets) today, tomorrow and the day after," said a statement on its Facebook page.
Meanwhile public figures, including independent Daraa MPs Nasser al-Hariri and Khalil al-Rifai, have resigned in frustration at the crackdown.
Daraa's top Muslim cleric, Mufti Rizq Abdulrahman Abazeid, also quit, as did Daraa city council member Bassam al-Zamel, who told Al-Jazeera television "it is a duty on us to present our resignation."
"I call on the president to contain the security forces," Zamel said.
Students in Daraa and Damascus declared a general strike in all Syrian universities until "massacring the peaceful protesters comes to a stop and all prisoners of conscience and opinions are released," a statement said.
More than 352 people have been killed in Syria since protests began on March 15, according to figures compiled by AFP.
Syria blames "armed gangs" for the unrest aimed at fuelling sectarian strife among its multi-religious and multi-ethnic communities.
The crackdown unleashed a chorus of international condemnation.
On a positive note, authorities freed prominent militant Daniel Saud a day after arresting him without a warrant at his home in the northern city of Banias, said Ammar al-Qurabi of Syria's National Organisation of Human Rights.