Syrian security forces sealed off the coastal city of Banias overnight following sectarian killings by irregulars loyal to Syrian President Bashar al-Assad, witnesses said on Monday.
Violence in Banias, home to one of Syria's two oil refineries, erupted on Sunday when irregulars from the ruling Alawite minority, known as "shabbiha," fired at residents with automatic rifles from speeding cars, following pro-democracy protests in the mostly Sunni Mediterranean city.
At least three people were killed, a human rights activist in the city told Reuters. The authorities said an armed group had ambushed a patrol near Banias, killing nine soldiers.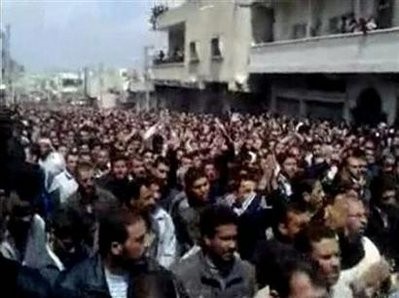 Thousands of people attend a mass funeral for pro-democracy protesters in the Syrian city of Deraa in this still image taken from an amateur video posted to a social media site on April 9, 2011.
Another rights activist said roads to the town were blocked.
"We tried to get to Banias from the main exit off the coastal highway, but secret police had blocked the road and were turning cars back. Side roads were also blocked," he said.
Facing an unprecedented challenge to his authoritarian rule, Assad has said the protests are part of a foreign conspiracy to sow sectarian strife.
His father, the late President Hafez al-Assad, used similar language when he crushed leftist and Islamist challenges to his rule in the 1980s, killing thousands.
Civic leaders and opposition figures reject the allegation and issued a declaration last month denouncing sectarianism, committing to non-violent democratic change and stating that Syria's people "as a whole are under repression."
ALAWITES PROTEST
The ruling family -- Bashar's brother Maher is the second most powerful person in Syria -- belong to the Alawite minority, an offshoot of Shi'ite Islam, which comprises around 10 percent of the country's 20 million population.
"The Alawites, like other minorities living under tyrannical systems, fear the unknown if the regime falls. But this does not mean that they support the violence it is committing," an Alawite human rights lawyer said.
The protests have spread across Syria despite Assad's attempts to defuse resentment by making gestures toward demands for an end to an emergency law in force for five decades and to appease minority Kurds and conservative Sunni Muslims.
With popular dissent now in its fourth week, security forces fanned out in tanks on Saturday night near the Banias oil refinery -- one of two in Syria -- near the Alawite district of Qusour, where its main hospital is located.
Gunfire could be heard across the city on Sunday. A human rights activist in Banias told Reuters at least three civilians died when the shabbiha came from mountains overlooking Banias.
"Banias's residents know they were thugs under orders and that sectarian strife would spell destruction for everybody," he said, pointing out that Alawites, along with Sunnis, have participated in pro-democracy protests in Banias.
"The streets have emptied following the killings. People are afraid. The shabbiha fired at random and you can see bullet holes on buildings," he added.
REPERCUSSIONS
At least 90 people in Syria have been killed in mass demonstrations, which first erupted in March to demand the release of school children who scrawled pro-democracy graffiti on school walls in the southern city of Deraa, and later progressed to calling for freedoms and an end to Assad's rule.
Any political change in Syria would have wider repercussions because the ruling Assad family maintains an anti-Israel alliance with Iran and supports the militant Hezbollah and Hamas movements while also seeking a peace deal with the Jewish state.
The West has condemned Syria's use of violence but diplomats say it is unlikely that Syria will face the kind of intervention seen in Libya, unless killings reach the scale of the 1980s.
Then, mostly Alawite forces loyal to the elder Assad attacked the city of Hama to crush an uprising led by the Muslim Brotherhood. Up to 30,000 people were killed.
"I am afraid that the security forces in Syria are much more tied to the regime than in Libya. The Syrian protesters are oblivious to the distinct possibility that the ruling elite may not hesitate to kill thousands to hold onto power," one of the diplomats said.
The authorities have intensified a crackdown on independent media since the protests began, expelling Reuters Damascus correspondent and detaining four other Reuters journalists for several days. Two Associated Press journalists were also expelled at less than an hour's notice, the agency said.
Syria has blamed the unprecedented unrest on "armed groups" firing randomly at citizens and security forces and state television is the only media allowed into the flashpoints.
A doctor and a university professor in Banias said a group was guarding the Sunni Abu Bakr al-Siddiq mosque with sticks during morning prayers when it came under attack by the shabbiha in their cars.
"Four people were hit in the feet and legs. The fifth sustained the most serious injury, an AK-47 bullet that went through his left chest lateral," said the doctor.
The attack followed a demonstration of some 2,000 people in Banias on Friday when protesters shouted "the people want the overthrow of the regime" -- the rallying cry of the Egyptian and Tunisian revolutions that have inspired growing protests across Syria against decades of Alawite domination.