Syria, accused by France of "crimes against humanity," on Thursday sent its security forces storming into a northwestern village where they killed three military defectors, rights activists said.
"A force comprising seven armoured vehicles and 10 jeeps stormed the village of Ibleen in Jabal Al-Zawiyah (region) in search of people wanted by the security services," the Britain-based Syrian Observatory for Human Rights said in a statement.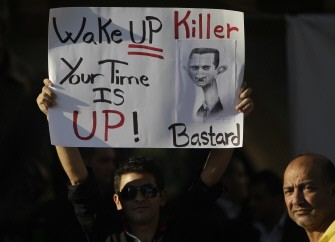 A press photographer (R) stands next to a Lebanese man carrying a sign calling on Syrian President Bashar al-Assad to step down during a rally in support of Syria's ongoing anti-regime uprising in downtown Beirut on September 8, 2011
"Heavy gunfire was heard as the forces stormed the village," the Observatory said in a statement received by AFP in Cyprus.
The head of the Observatory, Rami Abdel Rahman, later told AFP the killings occurred during a raid on the house in Ibleen of a brother of one of defectors, Hussein Harmouche.
Two other deserters were arrested, Abdel Rahman said, reached by telephone from Nicosia.
Harmouche, an officer, announced his defection in a June video widely distributed on the Internet and broadcast on Arab satellite channels, giving as the reason his refusal "to fire on unarmed civilians."
The United Nations says 2,200 people have been killed, most of them civilians, since democracy protests flared in Syria in mid-March.
The assault on Ibleen comes a day after regime forces, according to an updated toll by rights activists, killed another 31 people, 29 of them in a tank-backed raid on the flashpoint central city of Homs.
The brutal crackdown on protesters has been widely condemned by world powers, some of which have slapped sanctions on the Damascus regime.
French Foreign Minister Alain Juppe pulled no punches during talks on Wednesday in Moscow with his Russian counterpart Sergei Lavrov.
"The Syrian regime has committed crimes against humanity," Juppe said.
"The way it (the Syrian regime) suppressed the popular protests is unacceptable," he said, expressing hope that Russia would change its stance and back UN condemnation of the crackdown.
The Syrian authorities, he said, should be sent "a powerful signal that such actions cannot continue."
But Lavrov gave no signs of being ready to ease a Russian position that last week saw Moscow lash the European Union for imposing a crippling oil embargo on Syria.
"We are convinced that the essential thing is to start dialogue at the talks table," Lavrov said.
"We consider that inciting certain forces within the opposition to boycott the invitation to dialogue is a dangerous path and risks a repetition of the Libyan scenario, which neither Russia nor France wants."
Russia has staunchly opposed attempts by Western governments to push through a UN Security Council resolution targeting President Bashar al-Assad and has circulated an alternative draft calling for him to implement reforms.
European Union nations are considering fresh sanctions against Syria, a diplomatic source who asked not to be identified said in Brussels.
"There is preliminary political agreement" between EU nations on slapping a ban on oil-sector related investment as part of a seventh round of sanctions against the Assad regime, the source said.
The head of the Arab League, Nabil al-Arabi, is due in Damascus on Saturday after a planned visit on Wednesday was postponed.
Damascus had postponed the trip at the 11th-hour "due to circumstances beyond our control."
Arabi has been commissioned by the 22-member Cairo-based pan-Arab organisation to travel to Damascus with a 13-point document outlining proposals to end the bloody crackdown on dissent and push Syria to launch reforms.
According to a copy of the document seen by AFP, Arabi is to propose that Assad hold elections in three years, move towards a pluralistic government and immediately halt the crackdown.
The initiative, agreed by Arab foreign ministers last month, angered Syria which said it contained "unacceptable and biased language."
Syria's regime, which has promised to launch a wide range of reforms to appease protesters, blames the unrest on foreign-backed "armed terrorist gangs."
Russian President Dmitry Medvedev said Thursday that some of the Syrians protesting against Bashar Al-Assad's regime are "terrorists" and that the world should urge both sides in the conflict to refrain from violence.
In an interview with the France-based news channel Euronews, Medvedev admitted the Syrian authorities had been guilty of using "disproportionate force" against protesters, but called the country a "friend" of Russia.