Syrian army tanks on Sunday launched a pre-dawn assault on Deir Ezzor, the largest city in the country's northeast, a leading London-based rights activist told AFP.
Tanks entered several areas of the city on the Euphrates river about 450 kilometres (280 miles) from Damascus, and shelling was reported from at least three suburbs, said Syrian Observatory for Human Rights chief Rami Abdel Rahman.
He said about 250 tanks and armoured cars were involved in the offensive, adding: "Shelling has been heard in several areas."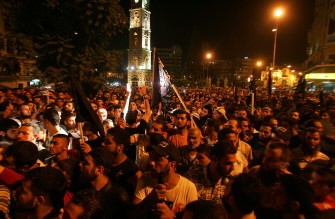 Lebanese protesters march in the northern city of Tripoli late on August 5, 2011 during a rally in solidarity with Syrian anti-government protesters
The Local Coordination Committees of Syria, which has been monitoring anti-regime protests, said the army had entered nine areas in the city, which was rocked by "very strong explosions."
Abdel Rahim said earlier on Saturday that hundreds of tanks and armoured cars had been deployed in Deir Ezzor and around Homs in central Syria. He said several people had fled Deir Ezzor, expecting an assault.
The attack came hours after UN leader Ban Ki-moon told Syrian leader Bashar al-Assad, who has been refusing to take his calls, to immediately end his deadly military campaign against opponents.
"In a phone conversation with President Assad of Syria today, the secretary general expressed his strong concern and that of the international community at the mounting violence and death toll in Syria over the past days," said UN spokesman Martin Nesirky late Saturday.
Ban "reflected to the Syrian president the clear message sent by the Security Council and urged the president to stop the use of military force against civilians immediately," Nesirky said.
Ban's call followed a pledge by the US, French and German leaders to consider new steps to punish Syria after a deadly crackdown on the first Friday of Ramadan, the holy Muslim month of fasting.
The Syrian government has sought to crush a democracy movement with brutal force, killing around 1,650 civilians and arresting thousands of dissenters, according to the Syrian Observatory for Human Rights.