The United States said Monday that Syrian President Bashar al-Assad is "increasingly isolated" internationally, as a result of toughening Turkish and Arab positions.
"With regard to the statements by Turkish President (Abdullah) Gul, the Arab League's very strong statement over the weekend... Assad is increasingly isolated," State Department spokeswoman Victoria Nuland said.
"The international community is increasingly speaking with one voice in demanding an immediate end to the violence," she said.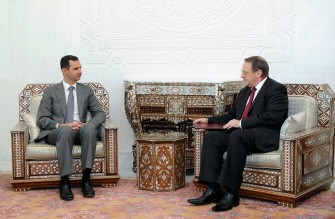 A handout picture from the Syrian Arab News Agency (SANA) shows Russian deputy foreign minister, Mikhail Bogdanov (R), delivering a message to Syrian President Bashar al-Assad from his Russian counterpart Dmitry Medvedev in Damascus on August 29, 2011
The Syrian regime has sought to crush months of pro-democracy protests with brutal force, killing more than 2,200 people since mid-March, according to the United Nations.
In an interview with the Anatolia news agency, Gul said Turkey had lost "confidence" in the Syrian regime following unfulfilled promises Assad had made to halt the onslaught.
Foreign ministers from the 22-member Arab League on Saturday called for an "end to the spilling of blood and (for Syria) to follow the way of reason before it is too late."
They also called for respecting "the right of the Syrian people to live in security and of their legitimate aspirations for political and social reforms."
Nuland said the United States was also focusing its diplomatic efforts on obtaining punitive measures against Syria from the United Nations.
"We're also intensifying our work in New York with some of our allies and partners on a new sanctions resolution. This will be a matter of diplomatic priority over the coming days and weeks," Nuland said.