Taiwanese leader Ma Ying-jeou says floods and mudslides unleashed by Typhoon Morakot last weekend have killed about 500 people.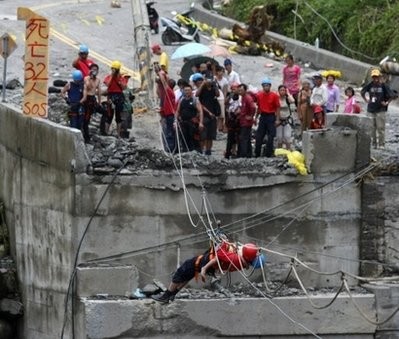 A rescue worker carries a four-year-old boy over a fallen bridge in Hsinfa, a remote village in Taiwan's southern Kaohsiung county. (AFP Photo)
Ma says Morakot has inflicted the most severe damage on the island in 50 years.
Ma made the remarks Friday at a security conference, the first he called since taking office 15 months ago.
He called on officials to beef up rescue and relief operations.
Typhoon Morakot dumped more than 80 inches (2 meters) of rain on the island last weekend. A total of 15,400 villagers have been ferried to safety, and rescuers are struggling to save 1,900 people still stranded at remote villages.
Rescuers in Taiwan Friday battled to reach over 15,000 people still trapped in mountain villages nearly one week after a powerful typhoon triggered the island's worst floods in half a century.
More than 50,000 troops were struggling to cross raging rivers and fallen bridges to reach victims across a large swathe of southern and central Taiwan, many of whom have been without food and water since Typhoon Morakot struck.
As anger over the government's response mounted, Ma vowed the whole teritory would mobilise to help the victims. "The government will overcome all obstacles to accomplish the mission," he said.
The typhoon dumped over three metres (120 inches) of rain, setting off flooding and mudslides which tore through houses and buildings, ripped up roads and smashed bridges.
Ma's administration has been criticised for being too slow to see the magnitude of the crisis in which hundreds of villages were cut off by mudslides, leaving them only accessible by air.
Dozens of helicopters have been criss-crossing the mountains and ravines of the region delivering food and water, and airlifting survivors.
The scale of the crisis has overwhelmed the authorities and many victims have complained they have received no help for days.
In Meilang village, Kaohsiung County, two desperate young men waved a large yellow banner which said "Government please help the people in Meilang and Changshan" every time a helicopter hovered above them.
One of them, surnamed Hsieh, said he left his work to return to his home village to find 270 villagers who had been missing for a week.
"The mountain here is shaking, it is going to collapse," he told AFP, asking why rescue teams had neglected their villages.
"Taiwan is cursed. This has never happened before."
The island's southeastern Taitung County government estimated that nearly 3,700 people in its townships were still cut off by Friday morning.
Meanwhile, the emergency operation centre in central Chiayi county told AFP that it believed nearly 9,000 people remained stranded there.
And in Kaohsiung, the hardest-hit county where most of the rescue missions are concentrated, troops were working to evacuate another 2,000 people, county magistrate Yang Chiu-hsing told AFP.
Rescue workers said they had to risk their lives wading through rivers to transport relief items such as biscuits, canned food and instant noodles.
In Hsinfa village, a hot-spring resort where bodies were found buried by mudslides, volunteer rescuers had to snake through some 18 kilometres (10.5 miles) of roads ravaged by flash floods and three half-blocked tunnels.
But they said they were still prevented from getting relief supplies across to the trapped victims because of a toppled bridge.
Morakot was the worst typhoon to strike Taiwan in 50 years. In August 1959 a typhoon killed 667 people and left around 1,000 missing.