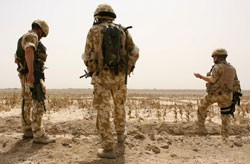 British soldiers look at the evidence of this years poppy harvest during a routine patrol in Lashkar Gah, Helmand province, Afghanistan (AFP Photo)
Taliban militants vowed earlier this year to unleash a wave of suicide bombings across Afghanistan as part of a stepped-up campaign against the government and its foreign allies.
"This is a war," Mohammad Hanif, the Taliban spokesman and close aide of the reclusive Taliban leader Mullah Mohammed Omar, told The Times via satellite telephone from an undisclosed location.
"The British are not here as peacekeepers. They are here with the occupier, the American superpower. They are allied with the superpower so we don't care about them. If they are with the Americans we can and will fight face to face."
Hanif also said that suicide bombers were "queuing up" to join the Taliban, adding that they now had anti-aircraft weaponry in their arsenal.
There have been about 22 suicide attacks this year, most of them in the south.
The Taliban movement was forced out of power by a US-led coalition in 2001 and wants to overthrow the government which replaced it.
Meanwhile a senior British officer accused Pakistan of allowing the Taliban to use its territory as a "headquarters" for attacks on troops in Afghanistan, in an interview with The Guardian newspaper.
Colonel Chris Vernon, chief of staff for southern Afghanistan, said the Taliban were directing their campaign from the western Pakistani city of Quetta, near the Afghan border.
"The thinking piece of the Taliban is out of Quetta in Pakistan. It's the major headquarters," the colonel said.
"They use it to run a series of networks in Afghanistan."
Vernon said the Quetta leadership controlled "about 25" mid-level commanders spread out across southern Afghanistan, one of whom was captured in April.
The claims drew an angry denial from the Pakistani military, The Guardian reported.
"It is absolutely absurd that someone is talking like this," spokesman Major General Shaukat Sultan was quoted as saying.
"If the Taliban leadership was in Quetta we would be out of our minds not to arrest them. They should give us actionable intelligence so that we can take action."
Lieutenant-General David Barno, until recently the commander of American forces in Afghanistan, urged British and other NATO forces that are taking over from US troops to stand up to the Taliban.
He said the Taliban was "clever" at exploiting political or military weaknesses.
"I have great confidence in the NATO effort, but as the transition unfolds (with NATO taking over more regions of Afghanistan), the key will be to maintain a strong resolve in the face of Taliban attacks," he told The Times.
Britain has more than 4,000 troops in Afghanistan, mostly in the restive southern Helmand province.