A suicide car bomb exploded near the main gate of a massive NATO military base in the southern city of Kandahar on Monday, killing two Afghans and wounding 13, an army general said.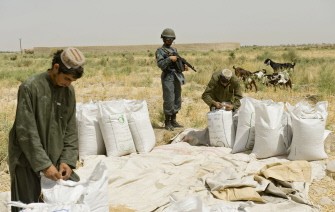 An Afghan National Police serviceman (C) looks on as farmers work during a patrol with US Marines of Military Police Company of 2nd Marine Expeditionary Brigade in the district of Garmsir in Afghanistan's Helmand Province on July 5, 2009. (AFP Photo)
The insurgent Taliban movement said the attack was carried out by one of its followers and the target had been US vehicles entering the Kandahar Air Field about 10 kilometres (six miles) outside the city.
The vast complex houses thousands of international troops, including some of the US reinforcements sent by US President Barack Obama this year as part of his new strategy to defeat the Taliban, as well as Afghan soldiers.
General Shair Mohammad Zazai said the bomber had not intended to attack the base but blew himself up at a nearby Afghan army checkpoint for vehicles en route into the city. Police said however his target was not clear.
"Twelve civilians and two Afghan National Army soldiers were wounded," said Zazai, the Afghan army corps commander for the southern region. One of the civilians died later and another person was killed outright, he said.
The attacker had blown himself up in a group of vehicles waiting to be searched before entering Kandahar city on a road from the border with Pakistan, the general said.
The regional border police commander, General Safiullah Hakim, said one of the dead men was a truck driver. It could not be ruled out that the attacker was targeting the base, he said.
An AFP reporter at the scene said the explosion took place about 50 metres (yards) from the first gate into the base. Two vehicles trying to enter were damaged -- one carrying concrete barriers and the other loaded with armoured vehicles.
The NATO-led International Security Assistance Force confirmed the explosion but said its troops were not affected.
Taliban spokesman Yousuf Ahmadi claimed the attack on behalf of his organisation, and said a dozen US soldiers were killed. Taliban information about death tolls is often incorrect or exaggerated.
The hardline Islamic insurgents have carried out a wave of suicide bombings in the past four years as part of a growing campaign against the internationally backed government of Afghan President Hamid Karzai.
The Kandahar air field is one of the biggest bases in Afghanistan for the tens of thousands of foreign soldiers deployed to help the fragile Afghan government fight the extremists.
About 4,000 troops flooded into Taliban strongholds in adjacent Helmand province on Thursday, as part of Washington's new strategy to turn the tide on the insurgency.
Their aim is to drive out insurgents and establish security so Afghans can vote in August presidential and provincial council elections.