When Sara Qaiser celebrated her wedding, her dream day was attended by armed guards and guests who had been frisked by Pakistani soldiers.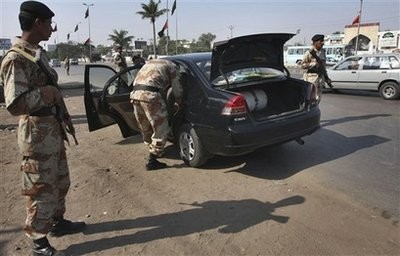 Pakistani paramilitary soldiers search a car at a checkpoint in Karachi, Pakistan on Sunday, Jan. 10, 2010.
Gripped by fear of bomb attacks, her family whittled down guest numbers to avoid the attention of militants and relocated the nuptials from a picturesque park that they worried was too insecure.
As suicide attacks and bombings by the Taliban and other Islamist radicals become more deadly, Pakistanis are reluctantly adapting their lives and scaling down events to lessen the threat to loved ones.
"People marry once in life. I had a lot of desires about how to celebrate my marriage ceremony with pomp, but I was told the situation wasn't suitable," said Sara, 22, who requested that her real name not be used.
"All the plans I had in mind were drowned in fears," she added.
All her father thought about was keeping his guests alive.
"The ceremony was changed from night to day and the venue from a park to a walled, secure wedding hall," said Qaiser Khan, a government employee, recalling his daughter's wedding in early December.
"There were many fears and worries, fears of bomb blasts, suicide blasts and even a direct attack, so we had no other choice but to change the style of the function," he said from his home in Peshawar's upmarket Hayatabad township.
"My wife started weeping. Tears in my daughters eyes were visible, but there was no other way. It was not possible to take a risk," he told AFP.
Hayatabad borders Khyber tribal district, where the Taliban and another feared militia, Lashkar-e-Islam (Army of Islam), are active. Pakistan sent troops into the area last year and residents are on edge.
Bomb attacks in Peshawar are rising. They have killed over 280 people in three months as the Taliban avenge army assaults on their northwestern strongholds.
In one of the worst attacks in Pakistan, a suicide car bomb killed at least 125 people at a packed Peshawar market on October 28.
Weddings have also been hit. On October 23, a land mine killed 16 wedding guests in Mohmand district, just north of Khyber and Peshawar.
Another problem for Sara was that her marriage procession -- or barat -- had to pass through an area rife with militants and patrolled by the army.
A normally festive occasion with drummers, music, and gaily decorated cars, the procession moved solemnly through risky territory.
"Passing through Darra Adam Khel was a difficult experience. The army was checking every vehicle and even a body search was carried out," said the groom, 28-year-old Javed Khan.
After the wedding and as night fell, the youngsters wanted some music, but one elderly man cautioned them: "You know they are targeting every place. Why are you inviting danger on yourselves?"
Residents of Peshawar, home to 2.5 million people, say they avoid public gatherings. Hosts confess to dropping police, soldiers and government officials from guest lists for fear of inviting Taliban attack.
Khalid Ayub, the owner of a wedding hall in Peshawar, said Lashkar-e-Islam leader Mangal Bagh and Taliban figures called him and told him to stop playing music at the ceremonies, claiming that to do so was un-Islamic.
Although the northwestern region bordering Afghanistan has born the brunt of militants' ire, violence has hit cities nationwide, with more than 2,890 people killed in Islamist attacks since mid-2007.
The moneyed youth of cosmopolitan Lahore in eastern Pakistan are also playing it safe, after six attacks this year killed 123 people, including 51 civilians in a suicide attack at a busy night market in December.
"I used to be a frequent guest at parties and weddings, but I haven't been at a party or event for four months," said Faran Shakir, a 25-year-old student. "If I try to leave the house after 9:00 pm, my parents ask where I'm going."
Rai Farooq Afzal, general manager of an events group, said his business had suffered as Lahore found itself in the Taliban's sights.
"During the last year, business has dropped more than 75 percent and in the last six months, we haven't arranged a single party in Lahore," he said.
"There was a big New Year's Eve function at a club, but there was a threatening phone call and they cancelled it," he added.
In Pakistan's most populous city, Karachi, authorities have ordered that all weddings wrap up before midnight, both to save electricity in a nation suffering a power shortage and to allay security fears.
The financial capital suffered one of its most devastating attacks last month, when 43 people were killed in a bombing at a religious procession.
"Now, I go to a wedding, hand my gift over to the couple and leave. I don't stay for dinner," said lawyer Asif Rashid.