The Taliban called Saturday for a boycott of the upcoming run-off in Afghanistan's fraud-tainted presidential election as top US and UN envoys predicted fewer problems with the second round.
While Western military chiefs insist they can ensure the November 7 poll is conducted in a peaceful atmosphere, the warning from the Taliban threatens to further deflate turnout, which was less than 40 percent first time round.
"The Islamic emirate (of Afghanistan) once again informs all the people that no one should participate in this American process and should boycott the process," said a Taliban statement emailed to AFP.
"The mujahedeen are fully prepared to defeat this process," it said, adding: "Anyone who participates and gets hurt will be responsible for their own losses."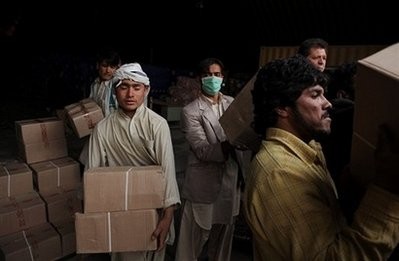 Afghan employees of the Independent Election Commission (IEC) load election material into a truck in Kabul
The run-off pits former foreign minister Abdullah Abdullah against incumbent Hamid Karzai, who came to power in late 2001 after the Taliban were toppled by US-led forces.
Eight years on, the Islamists are waging an increasingly virulent insurgency, particularly in their southern heartland, where attacks and threats helped limit turnout in some provinces such as Kandahar to ten percent or less.
Almost 200 violent incidents around the first vote were attributed to the Taliban, including amputations of fingers marked with purple ink as proof of voting, and rocket and grenade attacks on polling stations.
Almost one million of Karzai's share of the preliminary results -- around one-third of all votes cast for him -- were eliminated for fraud, cutting his lead to below the 50 percent threshold needed for outright victory.
The Independent Election Commission (IEC) has begun sending voting materials, including ballots with just two names and indelible ink, to polling stations across the country.
Speculation persists that Karzai and Abdullah could reach a deal that will negate the need for the run-off -- perhaps through a power-sharing deal or with Abdullah bowing out of the second presidential race.
But in an interview with CNN on Friday, Abdullah ruled out joining Karzai's government should he lose the run-off.
"I think I left Mr. Karzai's government some three-and-a-half years ago, and since then I've not been tempted to be part of that government... part of the same deteriorating situation," he said.
"So, (I have) absolutely no interest in such a scenario, while at the same time, for the interest of my country, if Mr. Karzai is elected through a transparent and credible process, I will be the first person to congratulate him."
The run-off has been proclaimed as a chance to revive Afghanistan's democratic ambitions and bringing some credibility to the election process, supported and bankrolled by the United Nations to the tune of 380 million dollars.
The UN's envoy to Kabul, Kai Eide, also said he expects less ballot-stuffing than in the first round, though he gave no details of how this will be achieved other than by sacking some 200 officials implicated in the August 20 fraud.
"I've been reassured by the Independent Election Commission that all staff that were directly involved in election fraud or all staff engaged in polling stations where significant fraud occurred will not be re-recruited," Eide told reporters.
Richard Holbrooke, US special envoy to Afghanistan and Pakistan, told reporters Friday he believed a second round would be less troubled by fraud or security concerns.
"It is reasonable to hope that there will be less irregularities this time, for several reasons," he said.
"One, there are only two candidates. Two, there's the experience factor. Three, the international community, including the forces under General (Stanley) McChrystal's command, are going to go all out to help make this a success."
He added that McChrystal will have more troops to deploy than he had on August 20, when the first round of elections was held.
McChrystal has requested an extra 40,000 troops to add to the more than 100,000 already in Afghanistan fighting the Taliban under US and NATO command.