A top US envoy warned in an interview broadcast Friday that a long delay in resolving controversies surrounding Afghan elections will only play into the hands of the Taliban and Al-Qaeda.
Richard Holbrooke, who is President Barack Obama's pointman for Afghanistan and Pakistan, was asked by the BBC whether it could create an unstable environment if counting from the August presidential election took months.
"I don't think you're going to have a process that's drawn out that long, at least I hope not," Holbrooke told the BBC in an interview.
"The beneficiary of that would be the Taliban and Al-Qaeda, and I need to underscore that... the beneficiary of any delays of the sort you're talking about would be the Taliban and Al-Qaeda, and everybody understands that."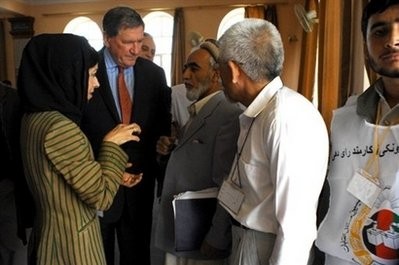 US Special Representative to Pakistan and Afghanistan, Richard Holbrooke (second left) talks with electoral staff at a polling station in Kabul in August
The US State Department has said it could take months to determine the results from the August 20 election and sort through all the allegations of irregularities during Afghanistan's second-ever direct presidential election.
Despite allegations of fraud and other abuses, Holbrooke said the process had to be supported and that scrapping the election was "out of the question", saying the United States had been prepared for disputes over the poll.
"I agree that there were major irregularities in many areas and the election complaints commission is looking at those. We always knew there would be problems," Holbrooke told the BBC.
"A re-run of the whole election? Ain't going to happen," he said.
Afghanistan's vote monitoring body on Thursday ordered for the first time that ballots be scrapped from 83 polling stations finding "clear and convincing evidence of fraud".
So far, President Hamid Karzai is on track to win a second term in office with more than 54 percent of the votes that have been released so far.
Holbrooke paid tribute to Karzai's main rival Abdullah Abdullah -- trailing with less than 30 percent of the vote and who has alleged massive state-engineered fraud tried to buy the leader a second five-year term.
"He's proved in this election that he's a good politician with a formidable national base and I think he's going to be a big factor in Afghanistan politics in the future whatever happens," Holbrooke said.